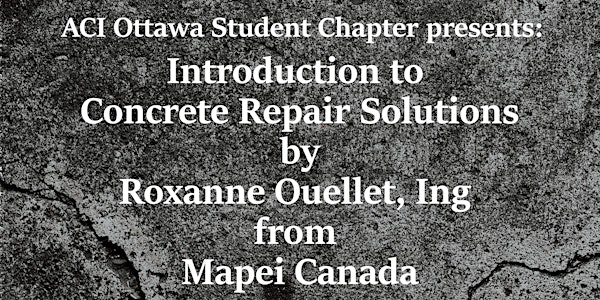 Introduction to Concrete Repair Solutions
Roxanne Ouellet Ing. from Mapei Canada is a member of the International Concrete Repair Institute (ICRI) and will talk about concrete repair
About this event
The International concrete repair institute (ICRI) is the only association solely involved in the improvement of concrete restoration, repair and protection in the industry.
This presentation is an introduction to the specific challenge of concrete repair and the technologies available to engineers and contractors. The ICRI offers the industry many tools, standards and guidelines to assist with concrete repair and protection. We will cover a few specific topics such as: :
- Surface preparation
- Repair material selection
- Curing of repair
- Crack injection
- Structural reinforcement
The local chapter membership benefits will also be presented. Students desiring to be involved in the concrete repair industry are welcome to participate in the activities.
Bio
Roxanne Ouellet recently joined MAPEI Canada's technical team as a specialist engineer. She assists engineers and contractors in selecting solutions for concrete repair and protection.
Prior to joining MAPEI she completed her civil engineering undergrad at Laval University and has more than 6 years of experience with Master Builders Solutions. She is still an active member in the ICRI Local chapters.