Introduction to Codesign with TACSI
When and where
Location
Childers Street Civic 2600
Description
On the evening of Monday 29 April, we're fortunate to have two of Australia's top codesign experts in Canberra, Chris Vanstone and Suhit Anantula, from The Australian Centre for Social Innovation (TACSI).
With the support of TACSI and Entry 29, Canberra's newest co-working space for innovative new companies, Chris and Suhit have agreed to give a short presentation on codesign, or collaborative community design, an area increasingly being adopted by government to design policy responses and service delivery solutions and by companies to develop products and services.
This is an introductory presentation, designed for government policy, service delivery, community engagement, communication, change management and innovation professionals as well as for entrepreneurs and innovators in the private sector, who may find codesign techniques helpful in their work.
Chris and Suhit will also discuss several codesign projects they have delivered, working with the South Australian and Victorian governments.
The venue has limited space, so please RSVP promptly to guarantee your place.
Free drinks will be provided.
For early notice of these events, join the Government 2.0 Canberra Meetup: meetup.com/Government-2-0-Canberra
Location
The event is being held at Entry 29, which is based in a temporary builidng on Childers street between The Street Theatre and Davey Lodge
Please note there is limited offstreet as well as onstreet parking available.
Entry 29 location in Childers street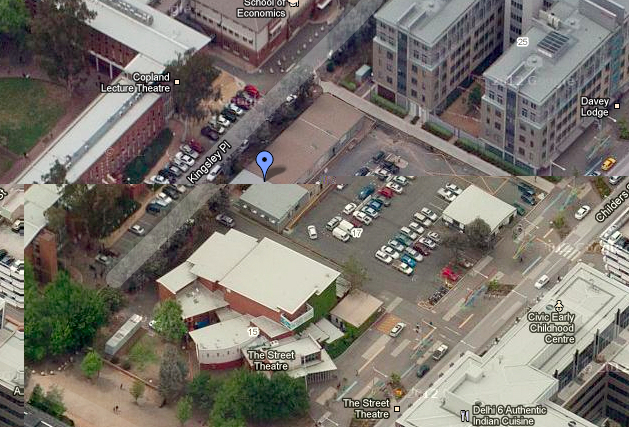 (view in Google maps)
Speakers
Chris Vanstone
Director of Co-Design, TACSI
Chris leads co-design across TACSI, its projects and start-ups.
A graduate of Central Saint Martins, Chris started his career as a product designer, designing biscuits, cameras and razors.He has spent the last 11 years working with interdisciplinary teams, and communities, to co-design scalable, people to people solutions to social problems.
In the UK, he worked for RED at Design Council, was a founding member of Participle and co-founded InWithFor – an organisation set up to work with centres of social innovation solve social problems and improve social problem-solving.
Before joining TACSI he designed solutions to increase democratic participation, reduce household carbon emissions, build relationships for socially isolated older people and enable more young people to thrive.
His work has been exhibited at MoMA and Cooper-Hewitt in New York and at the Design Museum and V&A in London.
Suhit Anantula (@suhitanantula)
Director Strategy and Business Development, TACSI
Suhit Anantula is a strategic business designer with 15 years of experience working with multinationals, startups, government agencies and NFPs, working closely with CEOs and top executives in Australia and India.
Suhit has focussed on adapting the best business and entrepreneurship principles from many different industries across the world in solving the "wicked problems" of the social sector.
His role is to "bring the economics of business to the human side of things". He calls this - Humanomics.
About TACSI
The Australian Centre for Social Innovation (TACSI) (tacsi.org.au) was founded in 2010 with seed funding from the South Australian government to promote and provide best practice expertise in innovative service and policy design.
Based in Adelaide, over the last three years, TACSI has built a 16-person interdisciplinary team that blends expertise in design, social science, community development, business and social work.
TACSI has developed solutions with and for families, older people and carers, with their first social start-up Family by Family winning a NAPCAN award for innovation in child protection and an Australian International Design Award for service design.
Besides providing design services to government, not-for-profit and commercial sectors, TACSI trains engagement and policy professionals on codesign practice and promotes innovative approaches for designing solutions to social and commercial problems.
About Entry 29
Entry 29 (entry29.org.au) is a brand new co-working space located at the ANU in Acton, Canberra.
Named after the winning entry in the 1917 Federal Capital Design Competition to design Canberra, Entry 29 has been designed to provide a social and inspiring work space where entrepreneurs and innovators can connect, create and collaborate on new and exciting opportunities.