Description
Dates: July 9th – July 13th, 2018
Location: Peachtree City, Georgia
Come and join us at this beautiful 700 acre property in Peachtree City, Georgia for our Introduction to Cob Workshop! We will be constructing a cob oven and cob seating area using modern and traditional techniques.
This workshop is a great experience to learn how to build with cob and to get a broad learning overview of natural building techniques. You will get a solid foundation in cob building fundamentals. We will be constructing with cob and studying Natural Building together each day. After this workshop, you will have the basic know-how and confidence to design and build your own cob building.
Hands-On Work Topics:
– How to make cob (with tarps and with a mortar mixer)
– Selecting and testing soils for cob (Learn several ways to test your soil composition)
– Building cob walls, cob oven, and seating area (learn my four steps to efficient cob building)
– Creating window and door frames (how to build and attach frames to cob walls)
– Rammed Earth Demonstration (building rammed earth forms and compaction process)
– Earthen Plaster Demonstration (learn to mix and apply earth plaster)
Classroom and Discussion Topics:
– Site selection and design (includes Passive Solar design principles)
– Materials and tools (covers traditional and modern cob building toolset and materials)
– Rubble trench foundations (Plus general foundation building)
– Drainage principles (Important: water can be cob's worst enemy)
– Basic Electrical and Plumbing integration for cob homes
– Installing windows and doors
– Roofing and Bond Beams
– Natural plasters and finishes (Vapor Permeable / "Breathable" finishes)
– Overview of Natural Building materials
This workshop is a unique experience for people to learn about building cob homes and to get an overview of Natural Building. Not only are there plenty of hands-on lessons to learn from, but we will also have ample discussion and informal classroom time. Most cob workshops don't cover this many topics. But here, you will learn all the core lessons needed to start building from this one workshop!
Plus – there will be many hours of discussions about building cob homes and natural building throughout the workshop. Its a great way to get your questions answered and brainstorm your building ideas!
The workshop will be held at the 700 acre Marchman residence right outside Peachtree City, Georgia, which is only about an hour south of the Atlanta metro area.
It's the perfect place for a workshop! You will really feel like you're on vacation here. We can work hard during the day, and rest and relax on the property in the evenings. There is a lake for swimming and plenty of outdoor space to walk and enjoy the scenery.
Stores, restaurants, and hotels in Peachtree City are only 5 to 10 minutes away from the workshop location and are very easily accessible.
We will begin each day with breakfast at 8:00 AM, discuss cob and natural building topics, and begin work around 9:00 AM. We will break for lunch at noon and return to our projects at about 1:00 PM. We will complete hands-on work around 5:00 PM. We will serve dinner at about 6:00 PM, and complete the day with more classroom discussions or natural building presentations. They will be full-packed days! Worth your every penny!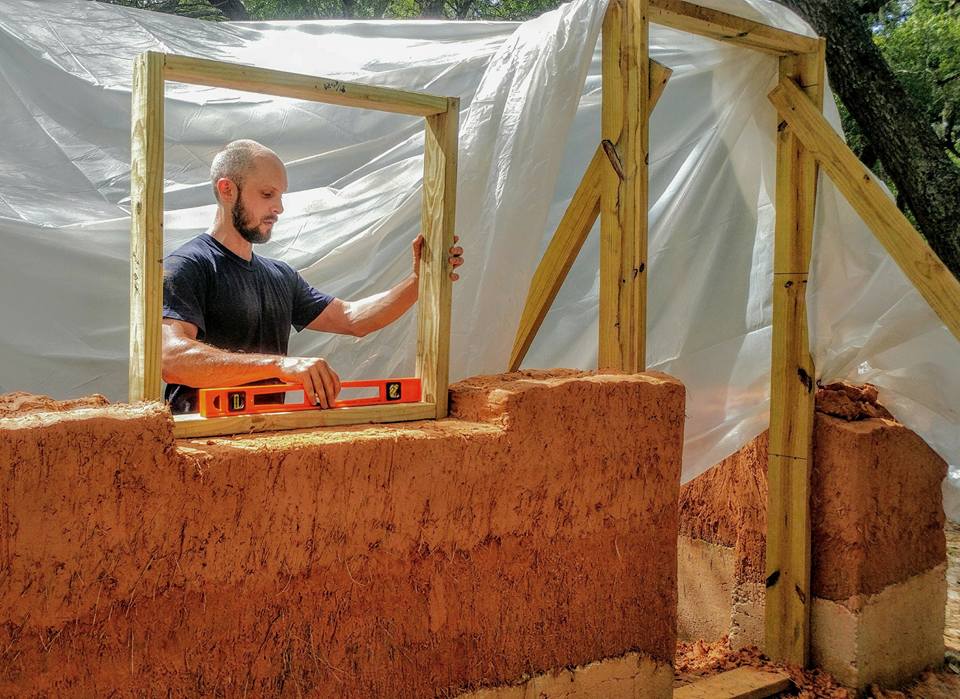 The workshop will be led by Alex Sumerall, an east coast Natural Builder who has a focus on creating earthen structures that are healthy, aesthetically pleasing, and functional for modern life. He is the owner of This Cob House, LLC, which is dedicated to teaching people about cob and natural building techniques. Alex has a background in business and advertising, and has been practicing Natural Building since 2011. He graduated from the Aprovecho School of Natural Building in 2013 in Cottage Grove, Oregon, and continues to teach, present, consult, and construct.
Earn A Certificate of Cob Building!

Upon completion of this workshop, you will be awarded with a certificate of cob building. This certificate is earned by all of our 5-day workshop students. It will be printed and signed by Alex for you to take home with you at the end of the week.
Free Bonus!
Everyone who signs up for the workshop will receive a printed copy of Alex's book, "Build a Cob House: A Step-By-Step Guide", and the downloadable PDF version, FREE! We only make printed copies for workshop students, so this is your chance to get one. We will be using the book as a lesson guide throughout the workshop too so you can follow along with your book in hand.

Listen to the great things that our workshop participants are saying!
"The cob workshop was a life-changing experience. I learned a lot about natural building, not only from Alex's instruction, experience and demonstrations, but from interacting with people from different backgrounds who were a great source of collective knowledge. The hands-on experience was priceless!" Tony Romo, Texas
"The Cob Building Workshop was a great investment of my time! It was well organized, extremely inspiring, and FUN! Alex was able to explain construction basics to neophytes like me, yet he could also answer the complex questions asked by the more experienced workshop attendees. I can't wait until the next workshop!"
Marybeth Babos, Tennessee
Lodging
There are three options for lodging: camping, RVs, or staying in one of the local hotels.
Camping is FREE and is available throughout the property. There are plenty of great locations to set up a tent here. Campers will have access to a clean bathroom and shower.
You may bring your RV or mobile camper, but there are no electricity or water hook-ups are available at the RV sites. The bathrooms and shower will also be available. Contact us ahead of time if you plan to bring an RV or camper.
Food
You will need to provide your own meals during the week. Peachtree City is only 5-10 minutes drive from the property and has everything you could possibly need for food options. Please let us know if you have any questions.
Prices
Early Bird Price: $599 if you pay by June 9th (30 days advance payment)

Regular Price: $699
Additional Discounts: 10% for family and friends participating together.
Teens accompanying a parent/guardian are half price. Children under 13 accompanying a parent/guardian are free.
If you have any other questions about the workshop, please feel free to email me at alex@thiscobhouse.com
If you have a large party of people registering, they can all register separately, or contact me for a custom invoice.