Event Information
Refund Policy
Contact the organizer to request a refund.
Eventbrite's fee is nonrefundable.
Introduction to Chinese Brush Painting with Alejandro Angio
About this Event
Chinese Brush Painting with Alejandro Angio
$150 for a three-class series - $80 Instruction + $70 Materials
About the Instruction
Traditional Chinese painting has three main themes: the landscape, flowers and animals (birds, tigers, fish, insects ...) and the human figure. The use of the brush for calligraphy, very close to drawing, lays the basis to achieve a virtuosity in its handling of painting, in works that can be very loose, stylized, symbolic, delicate and suggestive or try, on the contrary, to be extremely detailed.
Gongbi painting, (工笔) takes its name from the words, 'gong' which means "meticulous" and 'bi', referring to writing tools and, by extension, the act of writing, which is the same as drawing in China. Internationally it is known as "meticulous painting" because of the detail of its fine brushstrokes.
It is opposed to the school or style "Xieyi",写意, based on free and loose strokes with the brush, in principle with ink, which seeks more suggestion than detail.
This class will meet Saturday mornings, March 20, March 27, and April 4, from 10 am - noon, and includes a set of high-quality tools a beginner needs to get started. Materials may be picked up, or you may choose to have your materials shipped for an additional $10.
Please contact carol@wonderartsvt.org with questions.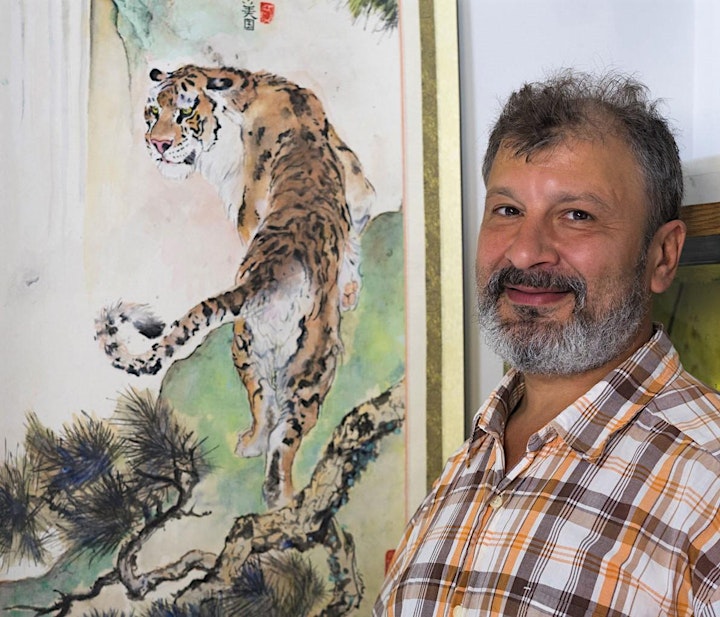 About the Instructor
Alejandro Angio was born in Buenos Aires in 1963.A student and assistant in his youth to the renowned Argentinian painter, Oscar Cesar Mara, Mr. Angio eventually moved to New York in the 1980's, working as a master technician for a series of famous art foundries, Roman Bronze, New York Art Foundry, Cera-Cast Art Foundry, Modern Art Foundry, Bedi Makki Art Foundry, and ultimately became founder, co-owner, and technician for Brooklyn's renowned New Foundry, Inc. In over 25 years in these roles, he cast and finished hundreds of sculptures in bronze and a variety of metals for important USA and international artists.
He studied Japanese Wood Block Printing with Takuji Hamanaka in New York and learned and introduced himself to oriental art.
In 2011, Mr. Angio adopted Chinese Brush Painting as his next medium, studying first with Laoshi Henry Li, and then continuing studies of Sumi-e in Argentina with Julieta Jitterman. Presently, he is studying Lingnan School style of Chinese painting with Laoshi Siu Mui Ngan in Canada.
Mr. Angio is currently living in Craftsbury, VT where he is working and teaching in his studio on Creek Road. His work here includes many paintings on commission.
His favorite Chinese styles of paintings are called Lingnan School style, and "gongbi" style. 'Gong' means meticulous, and 'bi' means line in Chinese or fine line brush style.
The versatility of his imagery brings together various Chinese painting styles with a constant awareness of nature as his main subjects. "Flowers and birds" and "Southern song Dynasty landscapes" are revived and recreated under a modern eye.
Date and Time
Location
Refund Policy
Contact the organizer to request a refund.
Eventbrite's fee is nonrefundable.