Introduction to Casting and Moldmaking

Tuesday, November 8, 2011 at 7:30 PM

-

Tuesday, December 6, 2011 at 10:00 PM (EST)
Event Details
Description:
Making copies of objects by creating molds and casting into them is ancient practice in both art and industry.  Students will learn the basics of casting from life and from object models, using safe materials to replicate everyday objects in plaster, wax, plastic, or rubber -- including your various body parts.  Class time will be a combination of educational demonstration, working on individual projects, and hands-on (or in!) creation.
Class Goals:
The goal of this class is to have students create a few freshly-cast objects (at least one of their own body parts) and in so doing learn the necessary skills to continue the practice of one- and two-part moldmaking on their own.
Prerequisites:
None.
Materials:
All tools and materials will be provided by the instructor. Materials cost $30 per student, and are payable to the instructor on the first day of class.
Instructor Biography: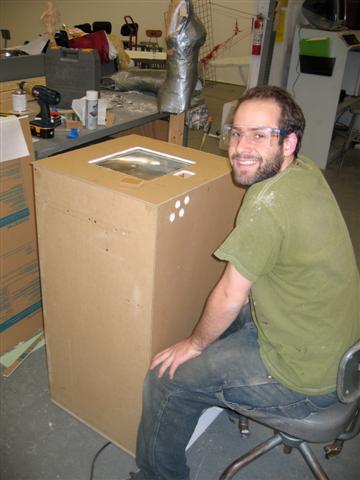 A native of Massachusetts, Bevan Weissman exists in duality as an artist and engineer: trained in both disciplines, his work straddles the line between the two. His areas of expertise include large scale installation, public art, and mixed-media sculpture; all of these have relied heavily on the inclusion of repeated and one-off castings in materials as diverse as cement, plastic, bronze, plaster, rubber, and wax -- whatever the piece needs in order to come alive.
Event Time:
Session 1: Tuesday, November 8th, 7:30PM - 10PM
Session 2: Tuesday, November 15th, 7:30PM - 10PM
* * * NOTE: NO CLASS ON TUESDAY, NOVEMBER 22ND * * *
Session 3: Tuesday, November 29th, 7:30PM - 10PM
Session 4: Tuesday, December 6th, 7:30PM - 10PM
When & Where
10 Tyler Street
Somerville, 02143


Tuesday, November 8, 2011 at 7:30 PM

-

Tuesday, December 6, 2011 at 10:00 PM (EST)
Add to my calendar
Organizer
Artisan's Asylum, Inc.
Artisan's Asylum is a 40,000 sq. ft. member-based non-profit community fabrication center located in Somerville MA, dedicated to making creativity a way of life. Our mission is to support and promote the teaching, learning and practicing of design & fabrication by offering:
* Shared design and fabrication tools and equipment in our various community workshops.
* A large range of publicly-accessible classes offered by local artisans.
* Various monthly membership structures allowing access to our facility. 
* On-site studio and storage rentals allowing members to create and store projects on-site.
* Hosting local craft-related events to help encourage DIY culture and community craftsmanship. 
Introduction to Casting and Moldmaking