Description
2017 has been the year of blockchains and cryptocurrencies. As a new paradigm blockchains pose both challenges and opportunities to current models of investing. Blockhain technology can be a threat or vehicle for expansion for venture portfolio companies. The growth in the popularity of bitcoin is symbolic for how blockchains can impact every industry in existence today. $1,000 invested in bitcoin early 2013 was worth $1.1million December 2017
Initial Coin Offerings raised more than $3.7 billion in more than 230 ICOs in 2017 and already more than $3.6 billion in the first quarter of 2018 trough 101 ICOs. Bitcoin and other digital assets have outperformed all traditional investment vehicles in 2017. And every investor must prepare for 2018 by studying how these new paradigms might impact their current portfolio and future strategies. The chart below shows last year's returns by asset class.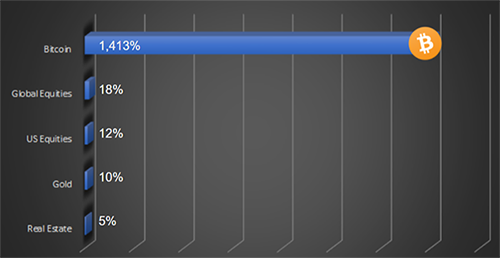 Many fincancial writers and analysts have classified blockchain technology and cryptocurrencies as a segment within FinTech. However, blockchains have the potential to disrupt every FinTech business model investors are supporting today. In fact, most FinTech companies are indeed classic middle-men that decnetralised ledger technology will displace.
This event will cover the following topics:
Basic Building Blocks of Blockchains

Blockchain and FinTech

2017/2018 ICO Summary

Return on Investment Comparison

Blockchain Economics

Public and Private Blockchains

Crypto Exchanges

Cryptocurrencies and the end of fiat currencies

Decentralized Autonomous Organizations

Virtual Assets, Coins Tokens and Regulation
If you are new to the blockchain space, please watch an introduction to blockchain (2018) - here.
About the speaker Christian Kameir lead the merger of two of Europe's first Internet service providers as general counsel for NIKOMA, today part of Europe's largest ISP Tiscali in 2000. He served as chief operating officer for the venture capital fund M&P from 2000-2004, overseeing investments in online game worlds and voice over IP. After founding Yelp-predecessor Colizer in 2004, and selling the operation in 2008, Chris became chair of startup network SANDIOS, and joined the board of several technology companies. He is a speaker and guest lecturer at the Rady School of Business (UCSD) and writes for technology magazines, covering topics from artificial intelligence to blockchain technologies. In addition to majoring in business, Chris is master-certified in NLP and a graduate of Muenster's School of Law.
FAQs
Who should attend?
If you are an accredited investor or venture capitalists, you don't want to miss this event!
What's the refund policy?
Sorry, no refunds (you can always sell/gift the ticket).
Do I have to bring my printed ticket to the event?
If the ticket is in your name you only need to bring your driver's license.
Is my registration fee or ticket transferrable?
Yes, you can gift these tickets.
Is it ok if the name on my ticket or registration doesn't match the person who attends?
Please change the name ahead of time through the registration page.