Introduction to Ayurveda Cooking

Multiple Dates
Event Details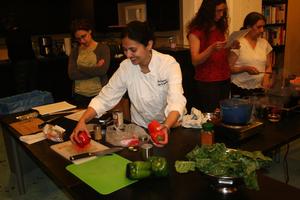 This is not an every day cooking class just to learn recipes. This is a journey of the soul into the universe of tastes, flavors, colors and knowledge.
'The quality our life is determined by the state of our mind.'
Find out how Ayurveda and balanced, tasty vegetarian food contribute to improve the quality of your life.
You will be enlightened with the most amazing knowledge about Ayurvedic principles which are applicable directly in your cooking, eating and (well) being. The most important aspect conveyed, is the joy, the light heartedness, the playfulness, in one word "the love" that we need towards the food.
 You will be introduced to the philosophy of Ayurveda.  The five elements of nature and the nature of the six tastes that balance your body type.  The class is part lecture (1hour)  and 1.5 hrs of cooking , followed by dinner.  
www.routetoindia.com
Where

Soma Cookloft
16 Jessie Street
#205
San Francisco, CA 94105


Multiple Dates
Add to my calendar
Organizer
Nalini Mehta is a culinary, yoga and meditation instructor who has taught at various holistic institutions around the US. Natural Gourmet Institute for Food and Health, NY, Whole Foods Culinary Center, Institute of Culinary Education, NY Open Center and offers online cooking and wellness classes through her business
www.routetoindia.com
. Rooted in the wisdom of Indian culture, Route To India brings ancient techniques of Ayurveda, yoga and meditation to the modern appetite.
Speaking Engagements 
Speaker at several institutes including UCSF, Baruch College, NY, Rubin Museum of Art NY, Asian Art Museum, San Francisco, Princeton University, and United Nations Spice Club, New York.