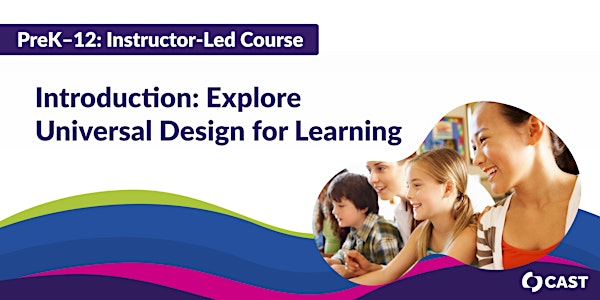 Introduction: Explore Universal Design for Learning PreK-12
This course is designed for anyone interested in the theory and practice of UDL.
Refund Policy
Refunds up to 30 days before event
About this event
Former Course Title: UDL101: Introduction to Universal Design for Learning
We know from experience and science that individuals learn in varied ways—ways that are particular to them. Universal Design for Learning (UDL) provides educators with practical strategies and techniques to ensure that all learners can meet high expectations. In this introductory course, participants learn the research basis for UDL, practical applications of UDL to lesson design, and helpful technology tools that support flexible, inclusive instruction. Each course section brings together up to 35 educators in an online community of practice. The course consists of 14 asynchronous digital sessions.
This course is designed for anyone interested in the theory and practice of UDL. While many of our examples are K-12 focused, higher education faculty are welcome and encouraged to take this course to learn about UDL theory and consider how to apply it to their curricula.
Using the UDL framework and its practical guidelines, participants will gain:
 A working knowledge of the theory and research basis of UDL, including how individual variability plays out in different educational environments
Strategies for evaluating and improving lessons to reach more varied learners and to support high levels of engagement and achievement for all learners
Tips, guidelines, and techniques for applying UDL principles to the design of lessons and curriculum units that need to be aligned to educational standards
Strategies for using new technologies, to make the curriculum more effective
Access to and tips on using CAST learning, authoring, and planning tools such as: Book Builder, UDL Studio, UDL Editions, and UDL Curriculum Self-Check
Registration Options
Instructor-Led Course Registration
This online course is led by our team of incredible online learning instructors. Please note this is a 14-week course with a set start and end date. There is an assignment due at the end of every week and an instructor that monitors this course, grades assignments and provides feedback. The course is completely asynchronous, there are no live sessions.
Instructor-Led Course Registration & Credential Bundle
The bundle includes the course registration and a code to redeem the UDL Mindset Credential. To learn more about the UDL Credentials and Certifications please contact Learning Designed at support@learningdesigned.org.
Paying with a Purchase Order
If you are paying for your ticket with an invoice, Purchase Orders must be submitted at the time of registration to submit your order successfully. All Purchase Orders should be uploaded to the Purchase Order Submission Form at the time of registration.
Please review our Online Course Withdrawal Policy.
To learn more about CAST's online courses, please contact Patrice Morrison at pmorrison@cast.org.