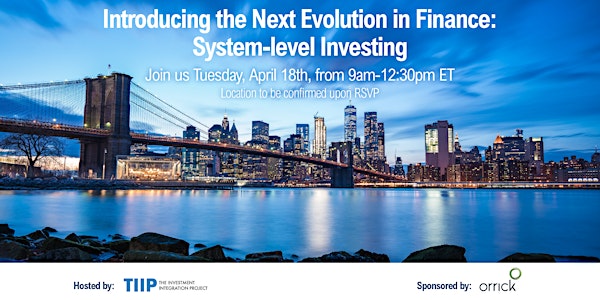 Introducing the Next Evolution in Finance: System-level Investing
This gathering on system-level investing is being hosted by The Investment Integration Project (TIIP) with thanks to our sponsor, Orrick.
By The Investment Integration Project (TIIP)
Date and time
Tuesday, April 18 · 6 - 9:30am PDT
About this event
"Introducing the Next Evolution in Finance: System-level Investing" is a hybrid gathering. Part celebration of the 2yr anniversary of the launch of the book 21st Century Investing, and part forward looking discussion of what happens next, the event will feature a number of field leaders working to manage systemic risks and advance industry transformation.
Space is limited for the in-person gathering. All interested in attending who cannot be accommodated in-person will be able to participate virtually.
More information about the event and a summary of the agenda are below:
In 2022, The Investment Integration Project (TIIP), a consulting services and applied research firm focused on system-level investing, announced an initiative, with anchor funding from the Surdna Foundation, to help investors deliberately address systemic risks like climate change and income inequality and seize opportunities inherent in increased social justice and resilient ecosystems. Central to the collaborative is TIIP's Systems Aware Investing Launchpad (SAIL), an all-encompassing investment information platform for investors seeking to better address social and environmental risks and achieve greater impact, and the creation of a Community of Practice (CoPractice) connecting investors with their peers to exchange ideas and lessons learned, and develop best practices.
Previously, investors could find ways to insulate their portfolios from certain global events. Today, even seemingly 'local' events can immediately and adversely affect all portfolios. The largest, most influential investors are recognizing this trend and considering the interconnection between planetary and societal systems under stress and adverse portfolio performance. These investors are pioneering policies and practices that are additive to traditional investment scrutiny at the security and portfolio levels, helping them to confront global environmental and social systemic challenges in a way that makes financial sense. These pension funds, foundations and endowments, family offices and others are charting the next, critical shift in the evolution of investment, and SAIL helps other investors join them.
The discussion on April 18th will include remarks from leaders from TIIP, Surdna Foundation and others at the forefront of the system-level investing movement and a discussion of TIIP's seminal report "Approaching the Tipping Point: Recommendations for building the marketplace for system-level investing".
In addition, attendees will hear from leading pension plans, foundations, and others who are harnessing system-level investing to combat major societal, financial, and environmental systemic issues. TIIP will also share emerging insights from its Racial Equity Working Group. The group is producing an Issue Brief makes that case that racial injustice is a systemic risk on par with climate change and identifies the associated leverage points in the system that can be utilized to advance toward shared intersectional equity goals.
Summary Agenda:
Welcome
Presentation: Shifting the Paradigm by Moving Beyond Modern Portfolio Theory
Presentation: Building the Market for System-level Investing
Panel: Tackling Racial Injustice as a Systemic Risk
Break
Pension Perspective: A Plan for System-level Climate Action
Presentation: Overview of the report Approaching the Tipping Point
Field Builder Perspective: The State of the Market
Breakouts: Group Discussions of Key Recommendations
Review of Next Steps for Advancing Investor Adoption and Industry Transformation
Closing remarks
With thanks to our sponsor, Orrick, for helping to make this event possible.
Frequently asked questions
I want to attend in person in NYC. How will I know where to go?
I want to attend virtually. How do I join online?