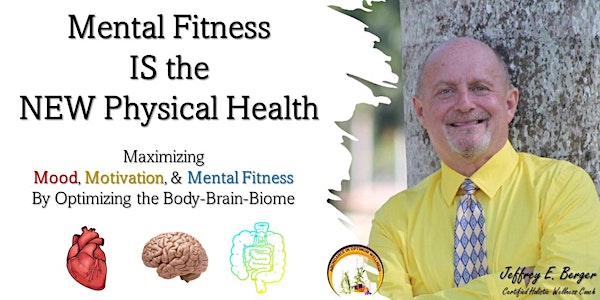 Introducing The Holistic Mental Wellness Company with a Microbiome Focus
Mental Health IS The NEXT Trillion Dollar Industry - Leading The Global Holistic Mental Wellness Revolution WITH THE Mental Wellness Company
About this event
Please remember to select a date just above the Location - Online Event to the right.
Note: Tuesday September 13th Event cancelled - moved to the 15th
Jeffrey E. Berger 𝐂𝐞𝐫𝐭𝐢𝐟𝐢𝐞𝐝 𝐇𝐨𝐥𝐢𝐬𝐭𝐢𝐜 𝐖𝐞𝐥𝐥𝐧𝐞𝐬𝐬 𝐂𝐨𝐚𝐜𝐡 - one of many humanitarian entrepreneurs 𝐋𝐞𝐚𝐝𝐢𝐧𝐠 𝐭𝐡𝐞 𝐆𝐥𝐨𝐛𝐚𝐥 𝐇𝐨𝐥𝐢𝐬𝐭𝐢𝐜 𝐌𝐞𝐧𝐭𝐚𝐥 𝐖𝐞𝐥𝐥𝐧𝐞𝐬𝐬 𝑹𝑬𝑽𝑶𝑳𝑼𝑻𝑰𝑶𝑵.
𝐌𝐞𝐧𝐭𝐚𝐥 𝐇𝐞𝐚𝐥𝐭𝐡 𝐈𝐒 𝐓𝐡𝐞 𝐍𝐄𝐗𝐓 𝐓𝐫𝐢𝐥𝐥𝐢𝐨𝐧 𝐃𝐨𝐥𝐥𝐚𝐫 𝐈𝐧𝐝𝐮𝐬𝐭𝐫𝐲 - Global Wellness Institute indicated at 2020 Palm Beach Conference there is a search for companies who are 𝐈𝐍𝐍𝐎𝐕𝐀𝐓𝐈𝐕𝐄 and developing product lines that are 𝐒𝐀𝐅𝐄 and 𝐖𝐎𝐑𝐊. We're already there, 𝒈𝒓𝒐𝒘𝒊𝒏𝒈 𝒊𝒏 𝒕𝒉𝒆 𝑻𝑹𝑰𝑷𝑳𝑬 𝑫𝑰𝑮𝑰𝑻𝑺 with numbers clearly indicating a 𝐇𝐨𝐥𝐢𝐬𝐭𝐢𝐜 𝐏𝐫𝐨𝐝𝐮𝐜𝐭 line people are looking for. 𝘈𝘳𝘦 𝘺𝘰𝘶 𝘰𝘱𝘦𝘯 𝘵𝘰 𝘕𝘌𝘞 𝘛𝘙𝘌𝘕𝘋𝘚?
If you're passionate about health and wellness physically, mentally, emotionally, spiritually, AND financially - you don't want to miss this presentation.
The Microbiome (Gut-Brain-Heart Axis Health) a science that's disrupting the health and wellness industry today especially when it comes to Mental Health.
At no time in human history have we ever been so "advanced" technologically and yet so miserable psychologically.
It's no exaggeration to describe stress, depression, anxiety, and burnout as epidemics – literally the "𝐁𝐥𝐚𝐜𝐤 𝐏𝐥𝐚𝐠𝐮𝐞" of our modern times.
How you feel is not just in your head, 𝐢𝐭'𝐬 𝐚𝐥𝐬𝐨 𝐢𝐧 𝐲𝐨𝐮𝐫 𝐠𝐮𝐭, and your heart, and your immune system, and in many other places inside and outside the actual brain in your head.
National surveys show that happiness and life satisfaction levels are at all-time lows, while depression, suicide, drug addiction, and use of prescription antidepressants and pain-killing opioids are at all-time highs.
There is no physical health without mental wellness. They are two sides of the same coin, and they are vital for each other and for our ability to reach our peak potential in this one life that we have to live.
As a Certified Holistic Mental Wellness Coach, we explored research-supported natural approaches can improve how we feel mentally and perform physically in every aspect of our daily lives.
This workshop will provide a foundation about an industry that's exploding, a science that's disrupting the health and wellness industry and a platform of programs, products and people that's leading the way into the future by Leading the Holistic Mental Wellness Revolution.
𝐉𝐨𝐢𝐧 𝐦𝐞 𝐢𝐧 𝐭𝐡𝐢𝐬 𝐰𝐨𝐫𝐤𝐬𝐡𝐨𝐩 𝐭𝐨 𝐋𝐞𝐚𝐫𝐧 𝐌𝐨𝐫𝐞! Teaching people that you can live a life of Abundance in Optimum Wellness Physically, Mentally, Emotionally, Spiritually AND Financially. (If YOU choose.)
𝐑𝐞𝐠𝐢𝐬𝐭𝐞𝐫 𝐭𝐨 𝐚𝐭𝐭𝐞𝐧𝐝 𝐭𝐡𝐢𝐬 𝐅𝐑𝐄𝐄 𝐖𝐨𝐫𝐤𝐬𝐡𝐨𝐩!
Mental Fitness IS The NEW Physical Health Today!