Description
Le Corbusier color workshop with drikolor founder Rachel Lacy
Event Description:
drikolor has been granted the rights to produce Le Corbusier's Polychromie Architectural, and we do this using the same pigments as he did. In this workshop you will make your own 'color keyboard', build a color keyboard using the colors from Le Corbusier's 'architectural polychromie' and express your own nature.
Le Corbusier chose colors from nature because they offer the people using them the opportunity to express their nature: "Color is intimately attached to our being," he wrote. "Each of us perhaps has their color."
Right from the start, Le Corbusier took responsibility for the color scheme of his buildings; he believed that "Polychromy is an architectural technique as powerful as the plan and section. Better than that: polychromy is itself an element of the plan and the section."
About Le Corbusier:
Le Corbusier's life was as intense as his architecture is influential, his career as vivid as his work. Color, not surprisingly, was a consuming interest and a consistent focus of his attention. Le Corbusier (b.1887, d.1965) was intrigued by the architectural possibilities of color. More than that, he was convinced of the centrality of color to human experience. "Man needs colors to live," he wrote. "It is an element as necessary as water and fire."
Right from the start, Le Corbusier took responsibility for the color schemes of his buildings; he believed that color is one of the "fundamental elements in the architectural perception". Le Corbusier's 'architectural polychromie' is based on the harmonious use of natural colors. He drew inspiration from the colors that occur in nature because those are the colors most familiar to us; their associative properties, Le Corbusier believed, enrich our experience of architecture, and therefore of life. To produce nature's colors, Le Corbusier argued, you must use nature's materials — the pigments of the earth. This was not just a matter of polychromatic honesty, which Le Corbusier expressed by naming his colors for the pigments which made them; it was also a means of achieving a color standard independent of manufacturers' idiosyncratic color charts. In 1931 Le Corbusier systemised his color philosophy in a commercial collection of 12 'color keyboards' made up of 43 colors, a method, he wrote, "that makes it possible to plan, in the modern home, color harmonies which are definitely architectural and yet
suited to the natural taste and needs of the individual"
Le Corbusier's holistic, systemic approach to space-shaping through color, and the color collections he devised, are as potent now as at the time of their creation. The Fondation Le Corbusier, which owns all the rights to Le Corbusier's estate, has granted Les Couleurs Suisse AG the exclusive rights to preserve, honour and promote Le Corbusier's 'architectural polychromie'. Les Couleurs® Suisse carefully selects international partner companies with which to work. In Australasia, Hong Kong and the United States the company selected to continue Le Corbusier's legacy of color — to use the same natural pigments he used, to produce the same natural colors he produced, and to meet the same standards he set — is drikolor.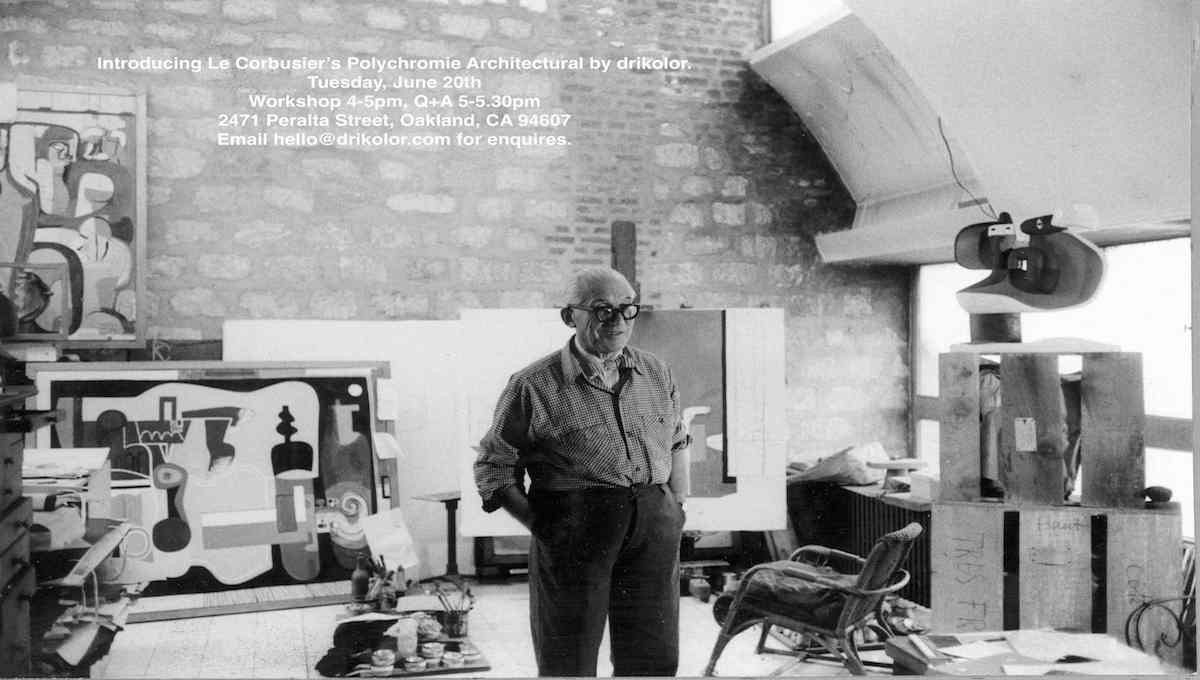 HOSTED BY: drikolor
drikolor is the first true innovation in the paint industry in decades.

drikolor has developed an patented process that separates color from paint and produces dry, granulated color that stirs directly into paint at point of use - as easily as stirring sugar into coffee.

drikolor produces the finest colors for interior paint, from raw pigments we source from all over the world. Champagne chalk from the Champagne region in France, umber from Cyprus, and bone black, originally made with bison bones, from the USA. We make our colors the same way an artist does, pigment by pigment slowly building the color up. Light waves interact with our pigments, and create a depth of color conventional liquid tints simply cannot match.

drikolor has a curated palette of 144 colors, including 63 color shades from Le Corbusier's Architectural Polychromy for which we are the exclusive licensee for the US, Australian, Hong Kong and New Zealand markets.
CONTACT INFO:
Rachel@drikolor.com
---
Event Type : Workshop
Event Focus : Interior Design, Pigment + paint system
REFUND POLICY : We do not offer refunds. If event is sold out, we might be able to give your spot to someone on the waitlist.