Coming in May — "Body Love" — an interactive and innovative workshop that will transform your relationship with your body - and yourself.
About this event
Join Adrien Cotton of Alexandria Wellness and her colleague, Dr. Christine Kiesinger, for a FREE behind-the-scenes discussion about their signature program, "Body Love" — an exciting opportunity to learn how to love YOUR BODY!
Do you talk down to yourself or your body?
Are you still struggling to achieve a body you have wanted for decades?
At the heart of well-being is your awesome, beautiful, and highly intelligent body. That said, we can be hardest on ourselves when it comes to how we think and feel about our bodies. Our experiences, combined with our harsh self-judgment about our bodies, can work to sabotage our efforts toward whole health and wellness.
What if we could change this? What if we could come to a place of freedom and peace when it comes to our bodies? What if we could put an end to this struggle? What sort of energy might we free up? What parts of our lives might we enjoy more? How might our lives change if we came to relate to our bodies from a place of appreciation, awe, and dare we say—love? What kinds of decisions might we make if we loved our bodies?
Introducing—Body Love—a new, signature program brought to you by Alexandria Wellness. Please join Adrien Cotton and her colleague, Dr. Christine Kiesinger, to learn more about the content-rich, interactive sessions that will explore what body love is, why it matters, and how to begin a new phase of your journey toward health, wellness and well-being.
Like Adrien, her co-host and colleague in wellness, Dr. Christine Kiesinger, has spent decades helping women of all ages enter into a peaceful relationship with themselves. Their hands-on experience with thousands of women struggling to find inner-peace with their bodies motivated them to join forces to create this innovative program for you.
Learn how "Body Love" will help you overcome your challenges with your body and how it is portrayed to you and to others.
While "wellness" and "well-being" are hot buzz words, after a combined 40 years working to help women find health, fitness and contentedness, we have found what women really want is to feel better about ourselves and our bodies. We exercise and watch our diets and expect to SEE a difference. We can't help but compare ourselves to others or even to our younger selves. Why don't you take this next step to learn how to form a "cease fire" with your body?
We cannot wait to see you!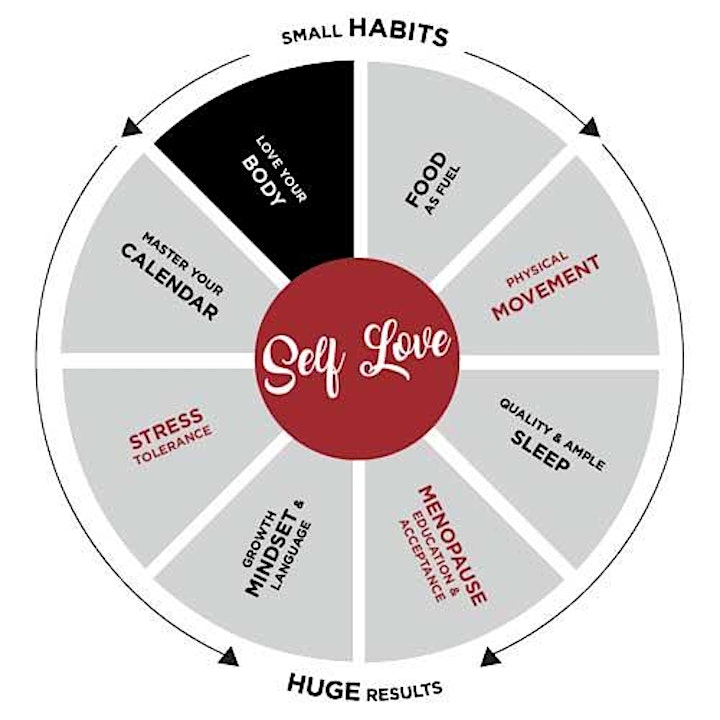 While so many women focus on food choices or exercise to feel better about their bodies, this course aims to help complement your wellness journey with proven ways to find contentedness and happiness with your body. This interactive and innovative program was created in the service of transforming your relationship with your body—because you deserve to experience radiant, whole health in all areas of your life! Loving your (self) body is a concept that merits focus and dedicated time spent learning how to appreciate and love your body—forever.
Ready to hear more?
Register for the Information Session on April 15 to find out how the "Body Love" series will give you the tools and strength to love your body. If this sounds like the next step in YOUR wellness journey, join Adrien and Christine to explore what body love is, why it matters, and how to begin a new phase in your journey toward total health, wellness and well-being.
Make finding peace with you and your body the next phase of your wellness journey!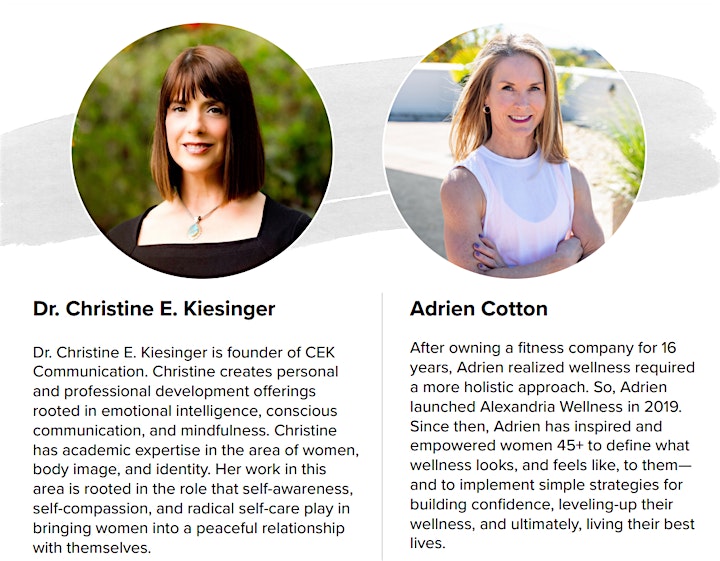 This information session will be held online via Zoom Video. After you register, please see your confirmation email for the link and passcode to join.
Organizer of Introducing "Body Love" - by Alexandria Wellness