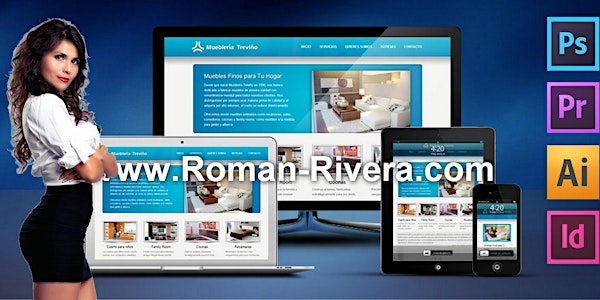 Introducción al Diseño Sitio Web para Vender y Promocionar sus Productos
Date and time
Tuesday, March 21 · 5 - 7pm PDT
Refund Policy
Contact the organizer to request a refund.
Description
¿Quiere aprender cómo empezar un Sitio Web?
Conozca los programas que están disponibles para crear su Sitios Web de una forma profesional
¿Está interesado en entender cómo un Sitio Web va a beneficiar su negocio para incrementar sus ventas? Aprenda cómo estructurar la información de su negocio para asegurarse que la información más importante sea accesible para sus clientes

Aprenda cómo puede lograr que sus clientes conozcan más acerca de su Sitio Web y de su negocio. Haga que su negocio sea fácil de encontrar dándole a sus clientes información detallada sobre sus productos y servicios. Aprenda cómo ayudar a sus clientes a que contacten su negocio de forma fácil dándoles información como correo electrónico, teléfono, redes sociales, video de Youtube y ubicación de su negocio.
Aprenda cómo un Sitio Web hace más que dar a conocer su negocio a sus clientes. Conozca cómo un Sitio Web puede darle información sobre sus clientes como nunca antes. Comenzará a entender los patrones de compras de las personas que visitan su Sitio Web. Aprenda cómo incrementar el tráfico de su Sitio Web. Aprenda cómo su negocio podrá monitorear cuántas personas visitan su Sitio Web cada mes.
Aprenda cuales son las mejores maneras de que las personas encuentren su negocio por medio de internet. Aprenda cómo tomar fotografías que describan su negocio. Aprenda a usar un mapa para poner la ubicación de su negocio en su Sitio Web. Aprenda a usar y encontrar los mejores diseños para su proyecto. Aprenda cómo instalar y usar una plantilla para su Sitio Web.
Inscríbase en nuestra próxima clase. Si usted es dueño de un negocio o le gustaría ofrecer esta clase a su equipo de trabajo. Mándenos un mensaje para más información.
Inscríbase en nuestra próxima clase.
About the organizer
Want more information on our lectures?  We are availbale by phone, text and video.  We are daily developing and growing businesses. Our aim is to provide the right tools and resources for you to start and grow your business.
We can be reach by making an appointment to come visit us in our office. We will be happy to meet you during business hours. Dont feel like driving to our classroom or if you cant make it to our classes at our office we also hold Webinars. Let us know if a Webinar would work best for you? 
You can always call from anywhere you happen to be. We are eager to answer your call. If were not able to answer leave a message and we will promptly return your call. Write us an email. We answer all correspondence no later than 48 hrs. after we receive it. Send us a letter to our mailing address. Will make sure to answer it quickly.
If you don't see what you're looking for or want to know more about us or our services don't be shy to contact us.
In most cases we can provide a solution for you or get you in contact with a professional that can assist you further.
We're looking forward to assisting your business.