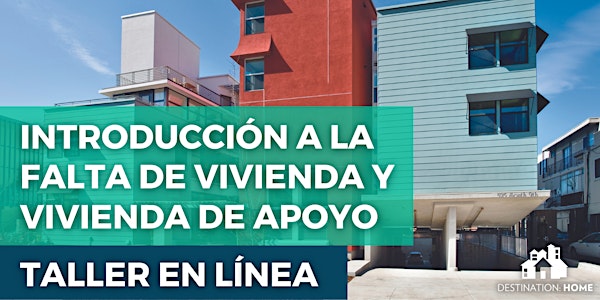 Multiple Dates
Introducción a la falta de vivienda y vivienda de apoyo (taller en línea)
Únete con Destination: Home para una introducción sobre el desalojo y vivienda asequible; además de aprender cómo se puede involucrarse!
About this event
Únete con Destination: Home y nuestra iniciativa de Housing Ready Communities!
Únete con nosotros para una introducción sobre el desalojo y vivienda asequible en el Condado de Santa Clara; además de aprender cómo se puede involucrarse!
Con tu participación y activismo puedes ayudar a terminar y prevenir la falta de vivienda en nuestra comunidad. En este taller aprenderás sobre el Plan Comunitario para Acabar con la Falta de Vivienda, como funciona la vivienda de apoyo (supportive housing), cómo nuevos apartamentos serán beneficiosos para nuestros vecindarios, y como ayudar con tu activismo.
El taller se llevará a cabo en español y dura una hora exacta (comienza a las 6:30pm y termina a las 7:30pm). Se encuentra más información sobre nuestra iniciativa (en inglés) por http://housingready.org
Registracion obligatoria. Capacidad limitada.
Ubicacion del taller
Taller virtual en línea (en internet)
¿Buscando el link de este taller?
http://taller.housingready.org
Instrucciones
Paso 1: Registrate en esta pagina de Eventbrite.
Paso 2: Encontrar un correo electronico de nosotros el dia del taller con el link para acceder al taller en línea.
¿Buscando este taller en inglés?
Aumentar su impacto
Invita por favor a sus amigos, colegas, vecinos a asistir el taller tambien.
¿Tiene preguntas?
Si tiene pruguntas o quiere involucrarse mas con nuestra iniciativa, por favor comuniquese con nosotros en cualquier momento por action@housingready.org o tambien se puede hacer una cita con nosotros directamente. Ojala hablamos pronto!
Nota especial
Este taller es una introduccion a nuestra iniciativa. Si Usted ha asistido antes una de nuestras talleres es posible que este sea repiticion. Si es el caso, mejor chequea con nosotros pirmero por action@housingready.org
Imagen del volante: The Veranda, un apartamento desarrollado y construido por Charities Housing en Cupertino.
Organizer of Introducción a la falta de vivienda y vivienda de apoyo (taller en línea)
Destination: Home is a public-private partnership ending homelessness in Silicon Valley. Through our collective impact model, we incubate new ideas, advocate for policies, and fund impactful strategies that address the root causes of homelessness and help ensure that our most vulnerable neighbors have a stable home.