Event Information
Location
EA DICE
36 Södermalmsallén
9th Floor - DICE office
Södermalm, Stockholms län 118 28
Description
Have you ever considered the games industry as a career option? Are you curious about the variety of roles at a games company? Meet women who are currently working in a variety of roles such as Project Leadership, Sound Design, 3D Art and Programming as well as several Independent game developers who are swiss army knives of code and design skills! We'll answer any questions and give you plenty of inspiration to kick-start your career making the games that you would love to play!
Learn more about working in Swedish game studios as well as education opportunities within games at this afterwork mingle hosted by EA DICE, Frostbite, Women in Games Sweden, and Dataspelsbranschen.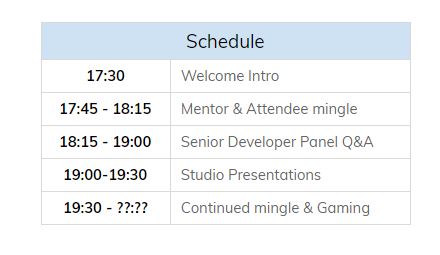 This event is open to people aged 16 and up who identify as women, trans women, genderqueer women, or non-binary and want to make games!
Light snacks and some food will be available during the evening.

Date and Time
Location
EA DICE
36 Södermalmsallén
9th Floor - DICE office
Södermalm, Stockholms län 118 28