Description
Join Capital Factory's CF Studios and Colaborator for a monthly series exploring the national reach of Austin's media scene. Filmmakers, journalists, game designers, MarComm mavens, IP lawyers and more will share their knowledge about the city's growing media infrastructure and how you can get plugged in.

---


Josh Rubin
@jrubin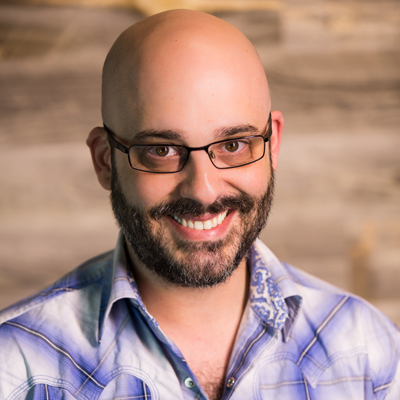 Josh is an award-winning journalist, editor, and executive with more than 15 years of experience in national media. He is currently the Director of CF Studios and Managing Director of Video at The Daily Dot, one of the fastest growing media companies in America.
Before joining The Daily Dot, Josh spent more than a decade with CNN traveling the country and covering everything from breaking news to presidential elections.
Dani Austin
@daniaustin



Dani Austin is a YouTube personality and influencer popularized on YouTube, social media networks, and her fashion blog, thedaniaustin.com for creating lifestyle, beauty, and fashion content. Dani is signed to Big Frame, a network owned by DreamWorks Studios and spent a significant amount of time of her college career traveling back and forth between Austin and Los Angeles, filming at YouTube Space LA, hosting Seventeen Magazine's Daily Shows, and collaborating with her favorite beauty and fashion brands. This year Dani covered NYFW 2015 at the Kia Style 360 shows and helped promote the award-winning documentary 'Iris' alongside the historical fashion icon.


Eric Duncan
@eric_DuncanATX


Eric Duncan is a multifaceted marketing and communications professional with more than 15 years of experience, who's developed and executed marketing and commerce programs built around acquiring, retaining and monetizing a fickle, passionate, and highly transient group of consumers. Most recently, he serves as Marketing Director of Rooster Teeth.
Rooster Teeth is a production studio based in Austin, TX responsible for some of the most watched and celebrated online series ever. The company ignited an Internet revolution and helped redefine contemporary animation when it created Red vs. Blue, longest-running web and American science fiction series in history. Rooster Teeth also produces the globally acclaimed animated show RWBY, the first western anime series to be distributed in Japan, and the gamer comedy series Immersion, a reality format that brings video game theory to the real world. Along with the chart-topping RT Podcast and hilarious live action shorts such as Million Dollars, But... and Social Disorder. With a massive global footprint of more than 20 million subscribers to its YouTube network, 3 million unique monthly visitors to RoosterTeeth.com, and 1.8 million registered community members, Rooster Teeth has one of the most active and engaged fan bases in the world. In 2011, Rooster Teeth expanded into live events with RTX, an annual gaming and Internet convention held in Austin, TX, which started as a fan event for 400 people but quickly grew to attract more than 40,000 attendees from around the world in 2015. Rooster Teeth is set to launch its first international live event in January 2016 with RTX Australia. Recently, the company broke Indiegogo crowd funding records after rallying its dedicated fan base for Rooster Teeth's first feature film, Lazer Team, which raised $2.48M and is currently preparing for a global release. In addition, Rooster Teeth operates the popular online gaming destinations Achievement Hunter, Funhaus, and ScrewAttack. In November of 2014, Rooster Teeth became a subsidiary of Fullscreen, Inc., a global youth media company that develops online creators and produces multi-platform entertainment experiences.


Harrison Bohrman


Harrison Bohrman is an award-winning writer and producer who currently left CNN to serve as the Senior Producer of Creative Development at VICE Media.
Harrison began his professional film and television career editing for the YES Network (the Yankees Entertainment and Sports Network) in Stamford, CT and later Ironbound Films in New York City. He has since traveled the United States, Australia, South Africa and Iceland developing films.
He has lectured at Emerson College and been featured in GREENWICH MAGAZINE (Greenwich, CT) and FRETTABLADID (Reykjavik, Iceland) for his work.
Harrison is a member of United States Chess Federation and a former president of the National Society of the Children of the American Revolution's Mary Bush Society, the oldest community service organization in America.
Harrison graduated from the University of Arizona majoring in Film and Television and studied film at USC and Northwestern Univeristy.
Refusing to limit his reach to just one genre or platform, Harrison's pursuing a career where he interlaces his love of history, music, film and new media.

Korey Coleman
@Kcoolman


Korey Coleman has been working in several forms of entertainment for over two decades.
Using a couple of sketchbooks, Korey started in Austin-based Heart 'O Texas Productions. There he met coworker, Ian Prickryl, who shared his love for movies, and together they formed a plan to see free flicks - produce a cable access show. Together they created The Reel Deal, a humorous movie review show.
After three years Korey left Heart 'O Texas to become a full-time animator at the tech company Human Code, where he worked on games for Nickelodeon and Leapfrog. This was his first time discovering the power of Flash as an animation tool, allowing one person to do what traditionally took several artists, more money, and much more time.
When Korey was laid off from Human Code, he became a full-time freelance artist producing illustration and animation for companies and publications. He also continued 'Eddie the Albino Squirrel' for the Austin American Statesman, where the comic had now become popular throughout the city.
During his time, Korey raised funds to write, co-produce, direct, and edit his first feature film '2 AM.' It showed at the SXSW film festival in 2006.
In the meantime The Reel Deal had enjoyed ten years of success, winning awards and making the casts local celebrities. At this point, Korey was ready to end the show - at least in its current form. Taking the skills, he learned from Flash he edited down sound bites from a few episodes and animated them. When they were placed on YouTube, they caught the attention of New York based company MIVA. Wanting to get into animation, MIVA hired Korey to develop a series of animated reviews for them. Buying the domain "Spill" from a defunct oil spill equipment company Spill.com was born.

After two years Spill.com was sold to Hollywood.com. There Korey served as the General Manager of Spill.com for 7 years, amassing an extremely loyal fan base to this day.


---

About the Sponsor:


Colaborator is the marketplace connecting companies to video professionals. Our clients include TheChive, Rooster Teeth, The Daily Dot, Live Nation, Fit Bit, Wired Magazine and more. Are you a company that needs video content? Or are you a video professional? Join today!