Description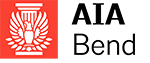 AIA Oregon Bend Section
Introduction to understanding and navigating the 2030 Palette to promote the goals of AIA 2030 in the planning, design and construction of Communities, Infrastructure, and Buildings. Preserving and enhancing the natural features, character and livability of a given Region, City, District or Site remain a priority.
Examples sited and explored within the 2030 Palette will generally be those most-relevant to Architects working in Oregon and the Pacific Northwest, and will be discussed as they pertain to the renovation of the Bend Central District and the updated Bend Transportation Plan.
Participants will become familiar with the guidelines for Solar orientation and shading, Water use, filtration and storage, and protection of Habitat based on a projects location and climate.
Other Tools and Resources for Sun Studies, Energy Analysis and Lifecycle Analysis will be introduced.
Learning Objectives:
Understand how to use the 2030 Palette during project Schematic Design, Design Development, and Documentation and Detailing in order to reach the goals of AIA 2030.

Discover the many Tools and Resources available to aid in the correct application of Materials and Systems specific to a project.

Learn how to apply the successes of the projects shown to the proposed renovation of the Bend Central District and updated Bend Transportation Plan.

Realize the advantages of using "Whole Building Approaches" to inform Site Planning, Building Form and Orientation, and Materials and Systems Selection.
CEUs:
1 – 1.5 HSW (depending on length of presentation and discussion) to follow with list of AIA member attendees.
Presented by:
James A. Satzinger AIA NCARB
AIA Oregon, Bend Section Director