Intro to Tarot Class 2: More Magical & Intuitive Tarot Practice

Thursday, January 11, 2018 from 7:00 PM to 9:30 PM (PST)
Event Details
Intro toTarot Class 2: 
More Magical & Intuitive Tarot Practice
Come join us in this magical class with Expert Tarot Readers Marcela Veron, High Priestess and Casey Zabala, creator of Wanderer's Tarot deck and guide.
Dive into your intuition and deepen your inner guidance with the Tarot. This intro class will take you on a powerful journey through the richness of the Minor Arcana, depth of the Suits and useful Tarot Spreads.
Each participant will divine their own personal Minor Arcana Spread to guide them throughout their journey of self-discovery. This class is created to go deeper or to continue your study of the magical Tarot with the Minor Arcana and much more!
Class meeting will be held at Crystal Way Market St. in San Francisco.
Syllabus Description:
We will work with the Tarot's Journey through the Minor Arcana, the symbolism of the tarot suits, and the essential numerology of the cards within them and elements. Plus, we will talk about spreads and intuitive tarot for personal guidance.
*You can participate in Class 2 even if you haven't taken Class 1*
You are welcome to join even if you are a beginner, enthusiast or seasoned and want to stregthen your skills.
You can bring your own tarot deck or use one of ours. Tarot decks will be available to purchase for your convenience. INTRO TO TAROT CLASS 2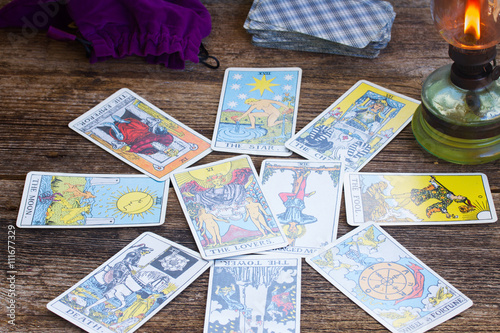 An intro to learn how to use THE TAROT  
Special pre-registration for class is $45 or $55 at the door
Check out the facebook event page and let us know you are going!
Excited to share techniques in mastering this powerful guidance tool with you,
Marcela & Casey
When & Where

Crystal Way Metaphysical Store - Main location
2335 Market Street
Market Street Location
San Francisco, CA 94114


Thursday, January 11, 2018 from 7:00 PM to 9:30 PM (PST)
Add to my calendar
Organizer
Marcela Liliana Veron is a gifted intuitive and relationship coach, who specializes in guiding Women to Return, Remember, Reclaim their Essence, Love Their Divine Design, & Breathe Magic Into Their Space.
"I am a * Priestess * Intuitive Reader * Interior Alchemist  * Energy Medicine Woman * Essence Embodiment Coach * Sacred Arts Facilitator  * Divine Lifestyle Designer *. 
If you are a
 career-driven woman, who feels like your intimate life is suffering or is less than desirable, and you

 feel like something is really 

missing

 in your life,

I can help you 
reconnect to your magic and deepen your feminine essence 
so you can experience the soul-satisfying love life you truly desire. I dive deeper
 in 
creating a space that expresses your soul beauty and 
design your life to reflect a divine-driven lifestyle."
Marcela holds a Master's of Women's Spirituality and Creative Expression; is a licensed The Art of Feminine Presence™ Facilitator, Advanced Professional Feng Shui Practitioner, Certified in Feminine Spirituality & Leadership and Vibrational Medicine. Marcela is also a skilled Face Reader and Hand Analyst.