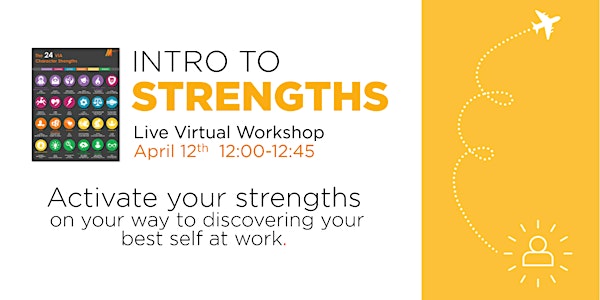 Intro to Strengths
Learn to activate the best within you as you start to see the strengths in others.
Date and time
Wednesday, April 12 · 9 - 9:45am PDT
About this event
Mark your calendar for Wednesday, April 12th from 12:00 to 12:45pm for a virtual presentation of Intro to Strengths.
This is the first step in your strengths-based journey to discovering your best self at work everyday. Facilitated by STRONG Workplace Solution leaders, this highly-interactive zoom workshop will help you identify your own signature strengths and start spotting the top strengths of others across your team and organization.
CLICK HERE to take the VIA Character Strengths survey in advance of our zoom session (about 15 minutes). Be sure to bring your strengths profile that you will receive once you take the survey with you to the session.