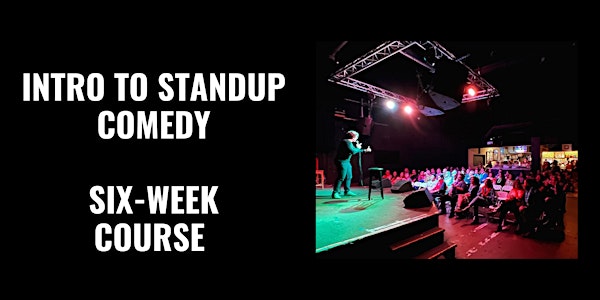 Intro To Standup Comedy - 6-Week Course & Graduation Show - Tuesdays
Learn standup comedy in a fun, safe and professional environment.
When and where
Location
The Amazing Comedy Theater 19480 Beach Boulevard Huntington Beach, CA 92648
About this event
"But, you can't teach people how to be funny."
No, you can't. And we don't try to teach that. We teach people how to write jokes and how to become standup comedians. 🤷‍♂️
Now that we got that out of the way, get off your couch and come fulfill you destiny by giving standup comedy a try.
Do people tell you that you're funny all of the time?
Do you want to become a more confident and engaging public speaker?
Have you always wanted to give standup comedy a try?
Not sure where to start?
Then this class is for you
Our six-week Intro To Standup Class will teach you everything you need to know to perform standup comedy.
This class explains the basics of creating and writing material and jokes, planning and performing standup comedy sets, and finding places to perform anywhere in the world.
The class includes on-stage practice sessions at our theater, open mics for students and a video recorded graduation show.
You'll also learn how to deal with hecklers, overcome stage fright, and become more confident in all types of public speaking situations.
So, whether you've always dreamed of having your own Netflix special or just want to become a more confident, kick-ass public speaker this is the class for you.
Get out of the house, meet new people and finally cross "try standup comedy" off of your bucket list.
Class includes a graduation show where you and your classmates will perform for family and friends.
What Makes Our Standup Course Different From Others:
- We own our theater, so we are able to put on several open mics a week where our students can practice and perform. Since the pandemic performance opportunities (especially for new comics) have been very limited. We guarantee stage time for our students on at least two open mics per week throughout the course. No other comedy class or school in Southern California can do this.
- We provide over $500 in free tickets to the comedy shows produced at the theater and by the theater during the duration of the six-week course. This includes tickets to our popular pop-up style shows around Orange County and LA.
- Our open mics and class graduation shows are filmed and students receive a free video copy of each of their performances. More chances to see yourself on video means faster improvement in your performances.
- Scheduled one-on-one time with instructors to go over specific issues, challenges and goals within standup comedy.
- Instruction on how to manage your social media presence and best online practices for representing yourself and your comedy to others. This includes how to start and produce your own weekly podcast.
Tuition And Class Registration Info:
Maximum class is 16 students. Class space is extremely limited.
Tuition fee includes free copy of the comedy textbook used during this course and an Amazing Comedy Theater t-shirt.
Students must be 18 years of age or older.
All class sales are final. No refunds.
Class Dates:
Tuesday 3/29- 6pm to 9pm
Tuesday 4/5 - 6pm to 9pm
Tuesday 4/12 - 6pm to 9pm
Tuesday 4/19- 6pm to 9pm
Tuesday 4/26- 6pm to 9pm
Tuesday 5/3- 6pm to 9pm
Graduation Show Date: To Be Determined Once Class Starts
Class dates subject to change should unforeseen circumstances arise.
About Our Instructors:
All of our instructors are veteran comedy performers, writers and teachers with decades of experience both on stage and in front of the classroom. They strive to provide the safest, most professional and welcoming environment possible for new and returning students alike.
If you have any questions about this class or any others that we offer please don't hesitate to contact us at classes [at] amazingcomedytheater [dot] com.