Description
Are you ready to learn how to understand how to harness the power of SharePoint; to learn how to enable your organization to store files and to collaborate in people-centric ways? If so, you're in the right place.
Course Specifications
Location: University of Lousiana at Monroe (ULM) Library 3G

Cost: $455/student
Time: 9:00am - 5:00pm


Course Description
Like all of Microsoft® tools, Microsoft® SharePoint is a powerful tool with amazing features such as custom web apps, file sharing, site collections, team sites, and more; which come bundled with the cloud-based edition, SharePoint Online. This course delivers essential training on SharePoint Online (2016), teaching viewers how to use SharePoint for business collaboration and real-time file sharing. We train SharePoint site owners and members how to create, edit, and save documents; create and use team sites; work with libraries and list apps; build site collections and sites; integrate SharePoint with other Office 365 apps; manage permissions; create workflows; and work with content types and documents.


Target Student
This course is designed for a person who has minimal or no understanding of the SharePoint tool but should have a technology background or inner working knowledge of other Microsoft® products.

Attendees will receive the following:
- The use of computers loaded with latest version of SharePoint for in class exercises
- Course workbook
- Refreshments served (Each student is responsible for acquiring their own lunch)

Delivery Method
Instructor led, group-paced, classroom-delivery learning model with structured hands-on activities.

Performance-Based Objectives
Upon successful completion of this course, students will be able to:
understand SharePoint permissions.

work with SharePoint Sites.

navigate, browse, and search in a site.

navigate a library.

work with list apps.

build site collections.

Instructor: Ieshea Jones, PMP®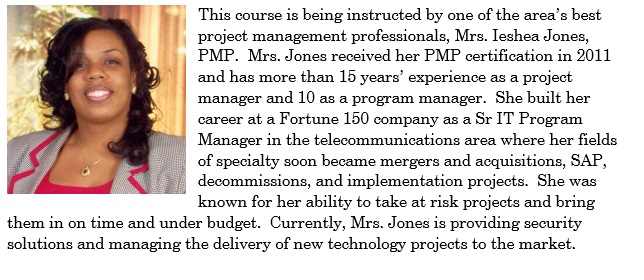 Course Details:
When: Friday, December 01, 2017
Where: University of Louisiana at Monroe (ULM) Library 3G
Format: 1-day in-person training
Earn: 8 PDUs
Available Seating: 18
Standard Fee: $455 until 2 weeks before course start date; late registration is at the discression of the instructor and an additional fee will be assessed for those who register late
Discounts available for groups - call for details.
Hurry, our seats fill fast. Guarantee your enrollment by paying your tuition today. You will receive a confirmation once your registration is complete. Payment is due before the program.

Program Schedule
Check-in: 8:30 a.m. – 9:00 a.m.
Program: 9:00 a.m. – 4:00 p.m.
Cancellations and Substitutions
You may cancel your registration up to 10 business days before the program, and we will refund your tuition less a nominal cancellation fee. Substitutions and transfers may be made at any time to another program of your choice scheduled within 12 months of your original event. Please note, if you do not cancel and do not attend, you are still responsible for payment.
Cancellation Policy: Refunds for this event will be given to attendees who email a cancellation request to training@direnzic.com at least 72 hours prior to the start of the event. Please note, if you do not cancel and do not attend, you are still responsible for payment.

Please Note
• You will be notified by email, fax and/or mail if any changes are made to your scheduled program (i.e., date, venue, city or cancellation).
• Walk-in registrations not accepted for this course.
• Please, no audio or video recording allowed.
• Lunch expenses are not included.
• Dressing in layers is recommended due to room temperature variations.
• You will receive a Certificate of Completion at the end of the program.


Let us show you how to get THE BEST results from your SharePoint subscription!


Join us for this scheduled course OR contact us to arrange a private session.
CALL (318) 599-9871 | EMAIL Contact@direnzic.com