Description
Overview
The main goal of this training is to present the principles and techniques of post-crash investigation and to explain in depth how on-scene investigation and reporting is performed as a guideline for real-life on scene investigations.
Millions of road crashes occur throughout the world every year. The failure of people, vehicles, roads and road environment to behave or react as expected cause many of these crashes. Post-crash investigations determine how and why these failures occur and give additional answers to determine what can be done to prevent similar incidents. Road safety professionals need to know the basics of crash investigation in order to introduce measures to prevent similar crashes in the future. Understanding the crash phases and causes provides skills for the practitioners to improve safety in their community.
Car crashes are part of a broad group of events that adversely affect the completion of a task. The post-crash investigation should provide enough evidence to answer the following questions: What? Where? When? Who? What with? Whom with? Why? How? To answer these questions, the evidence taken from the scene, persons and vehicles is critical.
Car crashes often are very complex. A car crash may have ten or more events that could be the cause. The goal is to identify all of these causes in order to understand their complexity and to realize that most car crashes are preventable by eliminating one or more of these causes.
Course Outcomes
Understand Classification, Terminology, Factors and Phases of Traffic Accidents.
Comprehend the principles of on-scene investigation.
Understand and recognize crash evidences.
Know the meaning and necessity of an Accident Report.
Target Audience
Road Agency Executives
Highway and Street Engineers
Traffic Safety Professionals
Traffic Management Professionals
Law Enforcement
Research & Academia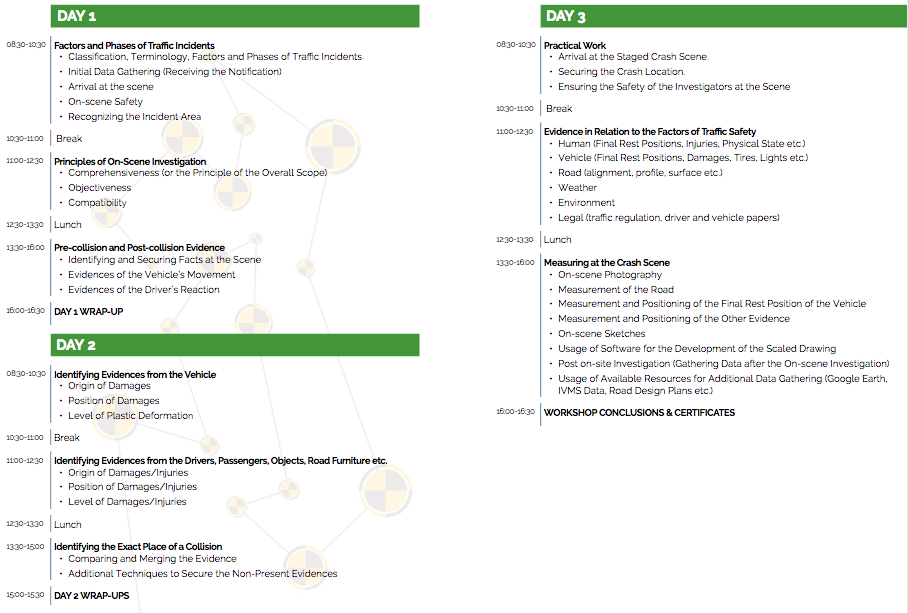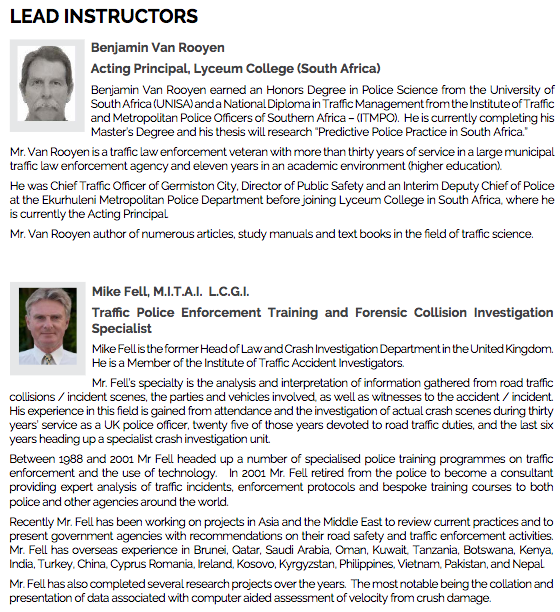 Please contact the event manager Marilyn below for the following:
- Discounts for registering 5 or more participants.
- If you company requires a price quotation.
Event Manager Contact: marilyn.b.turner(a)nyeventslist.com
You can also contact us if you require a visa invitation letter, after ticket purchase.
We can also provide a certificate of completion for this event if required.

NO REFUNDS OR TRANSFER ALLOWED ON REGISTRATIONS
-----------------------------------------------------------------
This Event Listing is Promoted by
New York Media Technologies LLC in association
with IRF Global.
http://www.NyEventsList.com
http://www.BostonEventsList.com
http://www.SFBayEventsList.com
-----------------------------------------------------------------
MYL170824UPR MAR170922TUP MYL171004OTH