Description
Intro to Mural Painting
January 12 - February 23, 2019
Saturdays, 2 pm - 5 pm
7 class sessions + open house exhibit March 2, 2019
$300 class fee + $50 material fee


ABOUT THIS CLASS
Intro to Mural Painting is dadageek's first public art related course with a series of more planned for upcoming quarters. The possibilities of infusing murals with technology abound, from various high tech paints, autonomous, integrated lights for the nighttime view to Augmented Reality layers on the top of a physical mural. We are offering this course for its potential to rethink murals, and also because public art itself requires new sensibilities and approaches to art-making.
Recent years saw a massive rise in interest in mural painting as one of the most versatile ways to transform our built environments. This course is an introduction to mural painting and installation of large scale 2D artwork. This is also a hands-on course. We will discuss various mural concepts, and approaches to public art and apply these concepts so we can intervene on an existing, two-story wall near the classroom. We will paint both individual exercises and a collective mural. We will also take a stab at understanding our material and artistic limits, what to accomplish with paint, especially if you have not painted before, and cover logistics from how to scale up a drawing to what scaffolds to use. We will discuss the context of working on murals, its past, and future. The course concludes in working as a team to complete a final large-scale mural.
This 7-week course will focus on guiding each student in developing their own concepts through hands-on workshopping and in-class experimentation until the last 3 weeks when we collaborate on a large scale piece.
The class ends with a finished mural for the dadageek showcase on March 2, 2019
WHAT YOU WILL LEARN
Students who successfully complete this course will:
have hands-on, real-life experience painting a mural on designated wall(s)
increase your awareness that mural concepts and scaling up logistics are as much part of murals as painting itself.
understand better your material and technical limits. Limits are good and there to be taken advantage of!
work together with others on our final, large-scale mural that takes time and dedication.
REQUIREMENTS
No prior painting experience is necessary
CLASS MATERIALS
dadageek will provide painting supply and scaffolding as part of your materials fee
---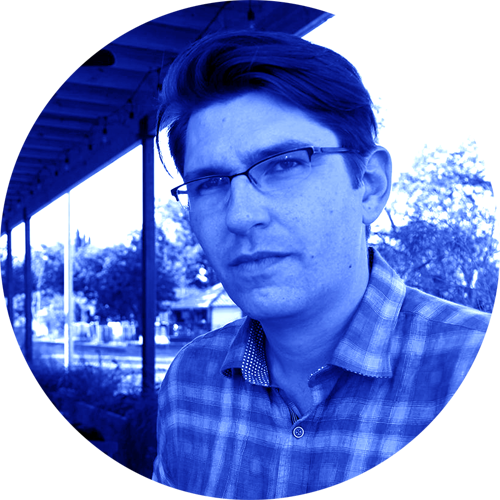 MEET YOUR INSTRUCTOR
ATX based artist Josef Kristofoletti was born in Nagyvarad, Transylvania. His work is primarily made up of mural paintings that address ideas about nature, technology, space and architecture. He was an artist in residence at CERN, the European Organization for Nuclear Research. As a founding member of the artist collective Transitantenna, he traveled throughout North America as part of a mobile living experiment that engaged local communities through public interventions. His work has appeared in several publications including Wired, PBS News Hour, New York Times, The Guardian, Boston Globe, Fast Company, and Symmetry Magazine. In 2013 he represented the United States at the Bienal del Sur en Panama, in Panama City.
FYI
Refund Policy
Students can receive refunds up to 7 days before the class start date.
Class Minimums
If the class minimum has not been met, the class will be cancelled or rescheduled. Those who have pre-paid will be notified in advance and will have an option to receive a class credit or a full refund.
Media Release
Please note that some events may be photographed or video recorded. If you do not want your picture or video published, you must send your request in writing to theTeam@dadageek.com immediately after registering. Otherwise, registering for this event, hereby authorizes dadageek to use said photos or videos on social media or in future promotional materials.