Event Information
Refund policy
Contact the organizer to request a refund.
Eventbrite's fee is nonrefundable.
Learn the art of modern calligraphy with Brittany DeNovellis of Novel Letter Studio.
About this event
Have you been thinking about learning calligraphy but have no idea where to begin? Or maybe you've started already and just need a little extra help? Join Brittany DeNovellis of Novel Letter Studio for a fun, virtual evening to learn the fundamentals of modern brush lettering!
This 2-hour live workshop will teach you the basics of calligraphy so you can skip the frustrating trial and error of learning it on your own.
You'll walk away with:
A better understanding of what pens and tools to use
The basic shapes you need to know (and how to combine those shapes into letters and words), and
A final project to show off what you learned.
This workshop includes:
A two-hour, live modern calligraphy lesson with the opportunity to ask questions to the instructor, a.k.a. Brittany (me!), your new calligraphy cheerleader and coach :)
A downloadable calligraphy PDF workbook
Access to a private Facebook group where you can ask advice and share your progress!
An Important Note About Supplies:
You have the option of purchasing a box of supplies through me, or you can purchase supplies on your own. If you'd like to be shipped supplies, please purchase a kit at least 3 weeks before the workshop to allow ample time for shipping. Details to come!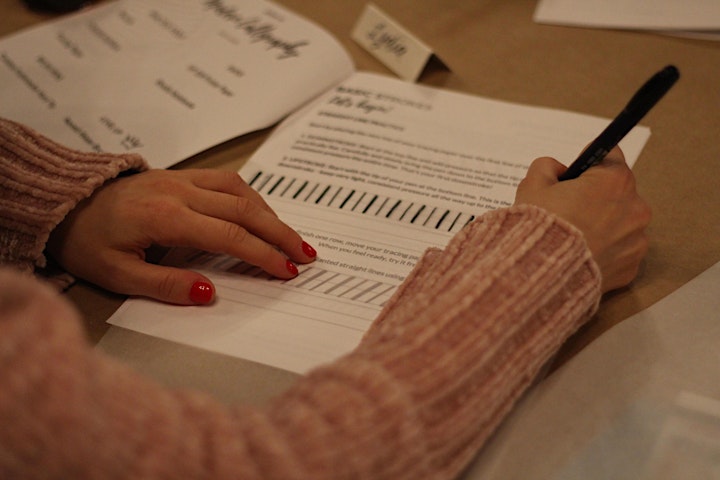 An Important Note about Ticket Prices: A Quick Guide to the Sliding Scale
Why a sliding scale?
Over the last year I have been engaging in racial equity trainings, reflecting on my own privilege and class, and working to operationalize what I've learned by putting it into practice. Shawna Murray-Browne of Kindred Wellness shared a reference to a blog post by Alexis J. Cunningfolk of Worts and Cunning about how she uses a sliding scale as a way to create multiple financial access points that can reflect various economic realities of students.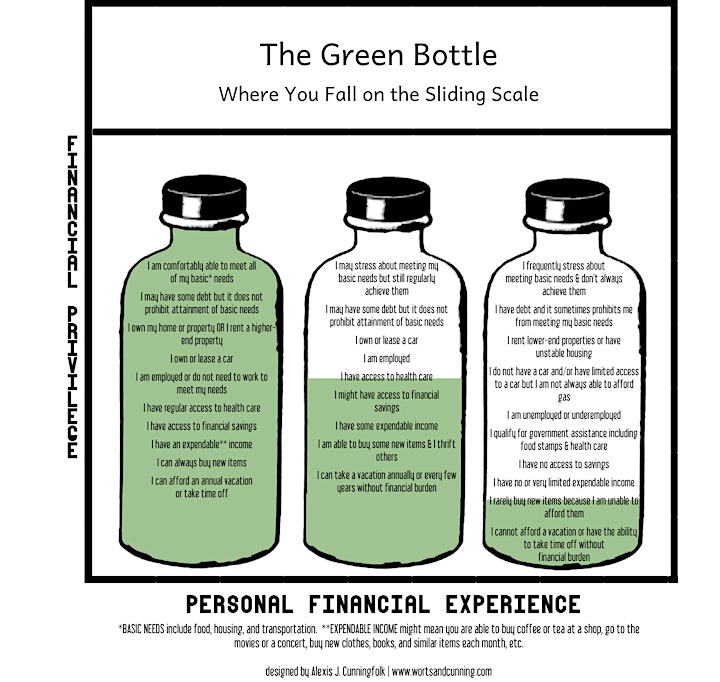 This operating model thrives on trust and asks for an awareness of class privilege, and I hope students find it helpful because I do believe that arts should be accessible!
Alexis says it best again here: "Please be mindful that if you purchase a price at the lowest end of the scale when you can truthfully afford the higher ticket prices, you are limiting access to those who truly need the gift of financial flexibility. Being honest with yourself and your financial situation when engaging with sliding scale practices grows strong and sustainable communities. It also respects the work of teachers and creators, like myself, you have families to support and rent to pay. Additionally, when I am paid fairly, I am able to invest more time and resources to free and lower cost offerings."
Thank you!
Can't make the class, but want to learn about private lessons or team-building for your workplace? Email brittany@novelletterstudio.com for details.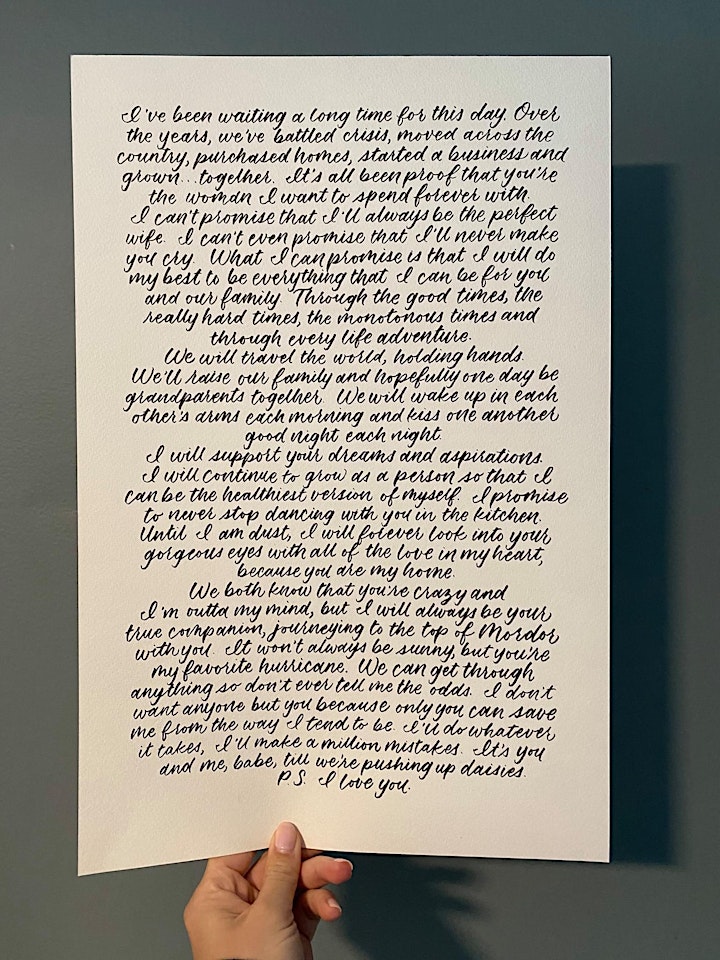 Why I Love Calligraphy
Calligraphy is a versatile skill that you can use to add beautiful touches in your day-to-day life or for special occasions.
You might be seeking new hobby to use for relaxation outside of your hectic job/kids/school schedule...or to improve your writing so you actually feel comfortable using all those pretty notebooks you buy!
Maybe you'd like to save money by making DIY gifts, wedding details, or your own house decor... Or you're interested in making money by using eventually using calligraphy as part of your business.
You don't need to have any artistic experience or skill, just a willingness to learn and see that practice makes progress.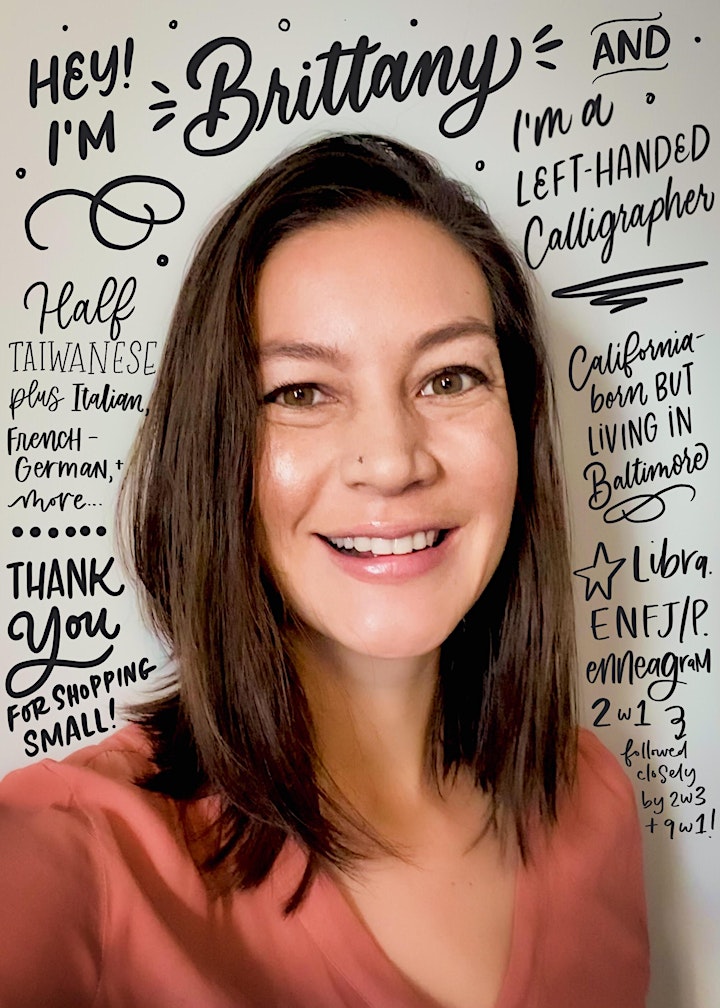 About Your Instructor
I'm Brittany, a Baltimore-based calligrapher and artist. I run Novel Letter Studio, which help couples and businesses connect with others through custom calligraphy that communicates their love and passion for the people that matter the most to them 💕 My mission is to help clueless creatives become confident calligraphers through workshops, coaching, and critiques!
I'm available for private events and corporate calligraphy classes.
When I'm not doing calligraphy, you can find me hanging with my husband, Blake, and my greyhound, Remy. I love to travel and go on new adventures, stay active, read, and cook. I can't wait to meet you!
Find me online at www.instagram.com/novel_letter_studio
Email me at brittany@novelletterstudio.com
Date and time
Location
Refund policy
Contact the organizer to request a refund.
Eventbrite's fee is nonrefundable.
Organizer of Intro to Modern Calligraphy - VIRTUAL
Hi, I'm Brittany! My mission is to help clueless creatives become confident calligraphers through workshops, coaching, and critiques.
I typically say that my journey with calligraphy started in 2016, when I tried to DIY my own wedding envelopes and decor. But truthfully, I've always loved to add special touches to written communications through lettering because it's how I like to connect with people and show them I care.
Though I work a full-time job in the nonprofit sector, art is a special outlet that has brought me joy and community like I never expected. I hope you can join me in one of my classes!