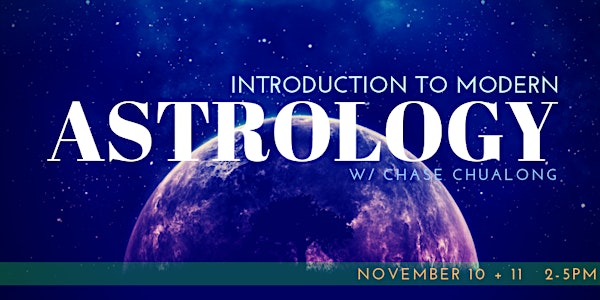 Intro to Modern Astrology
When and where
Location
Sixth Street Community Center 638 E 6th Street 3rd Floor Sanctuary New York, NY 10009
Description
Intro to Modern Astrology
November 10 + 11 (Sat / Sun) // 2-5pm
The sky and the earth have an intrinsic relationship and humans have always looked to the heavens for guidance.
Astrology is the study of the correlation between the positions of the planets and their effect on life. When interpreted for an individual, the position of the Sun, Moon, and planets at the time of birth describe one's personality, preferences, experiences and even path in life.
In this introductory workshop, we will explore the basics of modern astrology and do it in a way that is fun, interactive, tangible and meaningful.
This weekend workshop will give the fundamental language around astrology - the planets and the elements of a birth chart. The 10 planets are the building blocks of astrology and help you to understand the nature of energy and personality analysis.
By the end of this workshop you will:
-be able to confidently understand the basic mechanics of your natal chart, as well as the important parts to look at
-understand others and yourself in a clear and compassionate way
-have a detailed understanding of the planetary archetypes, how they work in your life, and the lives of others
-synthesize your personal astrology in a way that makes sense
About

Chase

Chualong:
Chase

is a New York City based spiritual consultant, professional astrologer and magical community builder. He is the founder and organizer of the Bay Area Healers Market and hosts a number of events that are centered around holistic health, healing and education.
Chase

's practice as a spiritual consultant combines the elements of food, herbals, flower essences, bodywork, energetic space clearing and utilizes astrology as the primary tool for counsel and diagnosis. The core principle of his work guides people to deepen their understanding of their own individual essence.
He is deeply passionate about the intersection of physical, mental and spiritual health and the dynamic journey to achieve and maintain that balance. He believes that through true inner inquiry, the compassionate awareness that is reached will ripple out into all facets of one's life.
earlybirdastrology.com