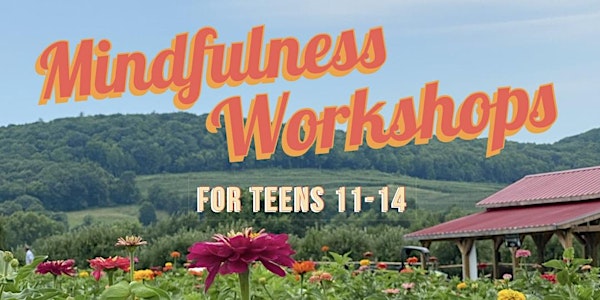 Intro to Mindfulness & General Stress Reduction
Location
Weed Orchards & Winery
43 Mount Zion Road
Marlboro, NY 12542
Sales Have Ended
Registrations are closed
This workshop has sold out! Don't worry though, there will be more to come.
This workshop is an interactive and fun class to help teens learn about mindfulness & incorporate it into their daily life to reduce stress.
About this event
Introduction into Mindfulness & General Stress Reduction
Explore the practice and benefits of mindfulness, incorporating techniques using our 5 senses that we can access at any time. Understand our breath and how to use it as a tool to calm ourselves and increase focus to the present. Use Mindfulness techniques to reduce stress and improve overall mental health.
Includes: 30 Minute Yoga with Certified Yoga Instructor Aimee Stong - Fun and Therapeutic Games - Group Discussions and Activities - Daily Guided Meditation - Orchard Walks- Aromatherapy - Breathwork - Interactive Activities - Skill Building - Individual quiet time for reflection and journaling - Fresh Air, Sunshine & Time away from our devices.
(Phones will be permitted during the one hour lunch, but we ask they are out of sight and quieted for the rest of the workshop.)
Snacks, Lunch & Refreshments are provided.
What is mindfulness and why is it important?
Mindfulness is our ability to be aware of what is happening at this very moment, good, or bad. Mindfulness may feel difficult at first, but it is something that we get better at as we practice. It is so easy to unknowingly let our mind get carried away, or spiral over something negative that has happened in the past, or something we are worried about in the future. Our bodies automatically respond to these thoughts, causing us to feel anxious, unsettled, unfocused and can make us want to shut down. Believe it or not, we can control how we think, when we become more aware of it. This will help us better control how we feel. The ultimate goal is to reduce negative feelings with positive ones, which will help improve overall mental health and cognitive functioning.
Let's Have Fun and Practice our Mindfulness Skills Together.
Nicole Serini LMHC-PLLC is a Licensed Mental Health Counselor. Nicole
has spent the past 15 years studying and working in the field of Psychology. She has spent much of her career working with adolescents and young adults. She currently owns her own private practice in Marlboro, New York. Teaching others about Mindfulness and connecting health and wellness with nature is a passion of hers.
All workshops will be held outside on the farm, or inside of our winery event space. Please wear appropriate clothing. Sneakers and sunscreen are highly recommended.
Please bring a Yoga Mat and a Refillable Water bottle.