Sales Have Ended
Registrations are closed
This class is currently full. Please click on the green registration button to the right to sign up for the waitlist in case of any cancellations.
Sales Have Ended
Registrations are closed
This class is currently full. Please click on the green registration button to the right to sign up for the waitlist in case of any cancellations.
Description
Mimes are able to create full environments and objects using only their skill and imagination. How do they do it? This class will show you. You'll learn the basic skills a mime uses to transform an empty space into a full world of endless possibilities.
Date: 4/27
Time: 4:00pm-7:00pm
Location: Unexpected Productions Improv School, Georgetown Studios, 650 South Orcas, Suite 101 Seattle, WA 98108 https://goo.gl/CMCRQp
Maximum Students: 20
Cost: $50
Prerequisite: All levels welcome

Teacher Bio:
Jay Hitt is the creator and director of Mouth Wide Shut, a completely non-verbal improvised show that uses Pantomime, Figurative mime, Corporeal mime, and various types of dance to create scenes based on the spectators' suggestions. these suggestions are also retrieved non-verbally. those who enroll in this class will also receive a free pass to see the closing night of Mouth Wide Shut later that evening, 4/27 - 8:30 pm at the Market Theater.
Jay is also the Managing Director of Unexpected Productions and has been with this improv company since 1993. He has performed and directed a variety of short and long-form improv shows since 1988. He created the Duo Improv Showcase in 2008. He has studied with great coaches from America and Europe and has been teaching and coaching improv since 1998. He is well known for his fearless approach to physical improv and his precision when it comes to object work and environment creation.

NOTE: Please note that this class has a great deal of movement and action. Please dress accordingly and bring a bottle of water.
Physicality is a kind of language, especially in improv. Jay's class helped to remind me just how important, nuanced and exciting it can be and gave me the "words" to use and showed me how to "speak" them with physicality. Jay as a teacher is like a clown's never-ending scarf bit. I'm not sure how he keeps pulling more and more interesting stuff out of his pocket, but there seems to be a never ending supply of it.
James L. 9/18
Jay reminded me that physicality is the foundation of performance and he gave me the tools to get there!
Randal F.
Jay was warm and welcoming. He was thoughtful in his planning and presentation. I really enjoyed getting to know him and learning more techniques to bring physicality to my practice.
Theresa W. 9/18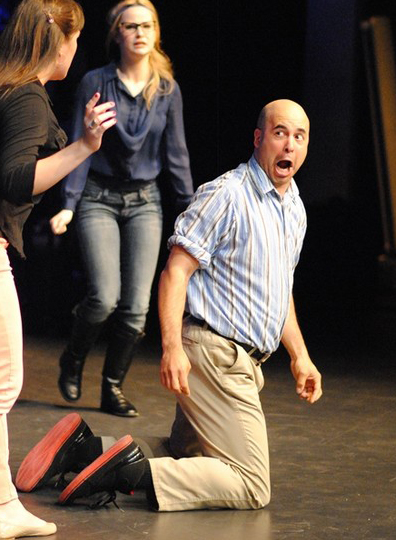 Our Georgetown Studios are located right behind the Georgetown Post Office. It is easily accessible via I-5 or Highway 99 or via bus lines 124, 106, 131, and 132. There is plenty of well lit, free parking as well, right near our front door! https://goo.gl/CMCRQp
**Cancellation policy: If you must cancel before the first class, we offer credit only towards a future class. We are unable to offer refunds.