Description
Bring a friend or two and pay less per person. Includes 4, two-hour classes to be held on consecutive Wednesday evenings (January 13, 20 & 27, and February 3); includes all tools and materials for the classes. Beginners and those with some experience are welcome!
PriceRange: $38.00-$65.00 per person depending on ticket type purchased.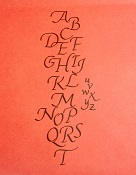 New Year; New skill!
Italic calligraphy is one of the most popular and recognizable styles of broad-pen writing, with elegant, slanted lines, graceful curves and flowing letterforms. It is widely used for greeting cards, quotations, invitations, titling for books and magazines, and for beautiful lettering art. In this four-part class you'll:
Gain an understanding of the elements of this classic lettering style

Learn how to make Italic's eye-catching thick and thin lines

Build a strong foundation for beautiful writing

Learn basic layout and design skills

Create a one-of-a-kind piece of calligraphic art
This course is perfect for anyone who's taken a basic calligraphy class, has attempted calligraphy on their own, or is a rank beginner in the art of beautiful writing. Instructor: Debra Dick.
Image and course description copyright by Debra Dick, 2015.