Description
Are you an entrepreneur starting a new company? Recently moved your company to Texas? Looking for ways to influence people to drive traffic to your business or brand?
Join us at Capital Factory + The DEC for happy hour and a live AMA all about How to Influence People in the Digital Age in Texas! Come hear an overview from experienced entrepreneurs, venture capitalists, LinkedIn influencers, creative branding firms and digital media gurus to get a chance to introduce yourself and ask questions.
Speakers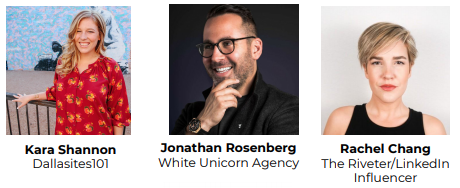 Kara Shannon
With a B.A. in Psychology and Spanish from Hamilton College, where she is the acting co-chair for her class, Kara is a driven entrepreneur passionate about building community and culture. She started her career at Teach For America for five years, where she led marketing, communications, and events work and was dedicated to leadership and diversity training. Outgoing and active, she is a member of the Junior Associates of DMA and the Assistant Chair of Public Relations for the Junior League of Dallas.
Jonathan Rosenberg
Jonathan is no stranger to doling out cutting-edge business advice. His vast experience as a consultant both domestically and internationally has equipped Jonathan with a keen strategic vision for achieving organizational breakthroughs. Born in Cape Town, South Africa and spending much of his adult life traveling, Jonathan's roots also run deep in the Dallas area. His love for design and attention to detail can be seen throughout his career as the founder of a variety of businesses including Koa beverages, The Standard Pour, and High Fives to name a few. A lover of good food and family, he keeps an eye on the newest updates around entrepreneurship, business, and management.
Rachel Chang
Rachel Chang is a top LinkedIn Video Creator and General Manager at the Riveter Dallas, a coworking space built by women, for everyone. As a former architectural designer, Rachel has a knack for building things - whether it's projects, communities, or companies. Rachel has leverage LinkedIn Video to not only drive millions of views to her personal brand but to the work, she does within the startup community.
You'll get answers to questions like...
How to build a brand?
Should I outsource digital marketing?
Are influencers worth the money?
How to navigate social media?
How much is too much for marketing/branding services?
You will find out about...
Why Texas
Capital Factory
Dallas Social Media
White Unicorn Agency
Life as the most influential LinkedIn influencer
Dallasites101
Have questions beforehand?
Email trietnguyen@capitalfactory.com with the subject line: How to Influence People AMA Questions!
Parking
For more information on Parking at Capital Factory + The DEC please visit our site.