Intro To GroundFlow™ and BreathWork

Sunday, December 1, 2013 from 9:00 AM to 1:00 PM (EST)
Event Details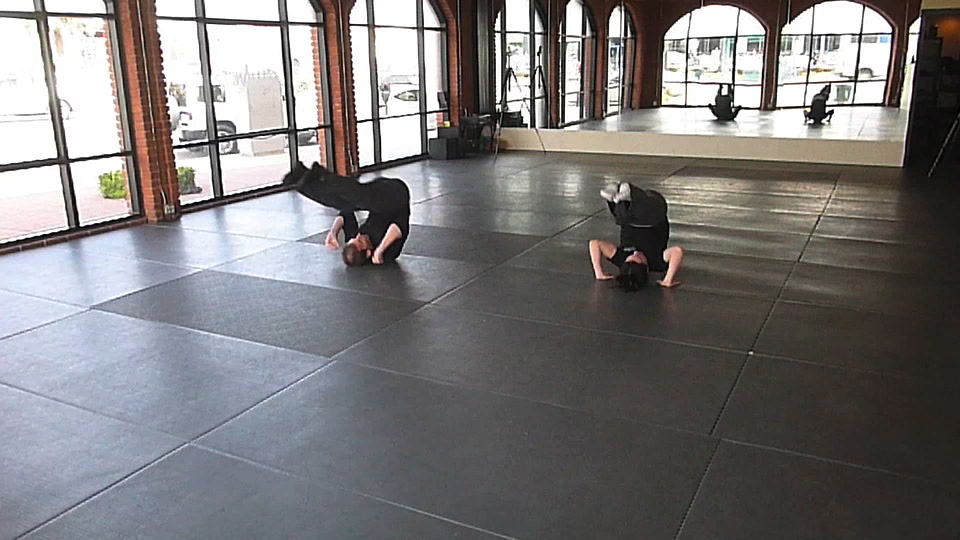 GroundFlow with BreathWork Workshop
                                 Learn to move with skill and grace
Learn to move the way our bodies were intended, 
through GroundFlow™.
Discover a system of exercise that emphasizes breathwork, conscious relaxation, and movement in spirals. Learn principles you can use to move and function better in daily life.
GroundFlow™ offers a unique alternative to the linear movements typically practiced in the gym. This practice will conquer your fear of falling and teach you an interesting and entertaining training method that is flexible and portable, requiring only your body and a little space.
 In this workshop, you will learn to smoothly and easily cover ground from a variety of positions and body postures. Learn to rise from the floor with grace and ease, and master movements that you can assemble into your own Flows.
Included in this workshop is information on incorporating breathwork into your training.
"From a physiological perspective, breath is the critical activity that catalyzes all other life-supporting functions in the human body. Without breath, the infusion of oxygen into the blood stream - which then nourishes and powers all the cells of the body - does not occur. Truly, breath is one of the essential building blocks of human life, along with water and nourishment. Breathing, however, is the only critical support system of human life that we have conscious control over; we have no direct voluntary control over the beating of our heart or the function of our nervous system or digestive system. Breath is unique in this regard." http://russiansystema.net/resources/articles/breathwork.htm
In order to change our breathing, we need to bring it to consciousness. Without this consciousness, change for the better cannot happen.
Learn how to pair breathwork with movement in training sessions or simple breath drills to perform while walking or sitting at your desk. 
Testimonials:
A quick testimonial for myself and my clients. I've been practicing since our workshop in Berkeley and have noticed huge differences in my own tension levels and in my day to day energy levels. I've also been using the GroundFlow work to rehab a client post ACL reconstruction. We've had to do minimal soft tissue work, and his range of motion and strength are progressing very quickly. He saw his surgeon last week for his 12 week post-op follow up. She was thoroughly impressed with his range of motion, strength, and function and lifted all of his restrictions and gave the green light to progress into running. The GroundFlow work is fun for clients and incredibly effective!
Andy Clower
Hello Ken,
Just wanted to tell you about a remarkable session I had with a 76 year old female client two days after your Ground Flow Workshop.
Marjorie and I started with shin boxes, using the support of the arms behind the body at first.  We then progressed to shin boxes without hands.  Then I asked her to progress to staining on her knee.  She used her hands at first but soon was able  to lift herself.  Then she moved the back leg around to the lunge position... And we progressed to the stand up from the lunge in a spiral motion!  Was so impressive.  
We went slow, took our time feeling confident In each section, but after she got it she declared how much fun that was!  I was delighted.  This what we want for our clients, movement that is fluid and brings us through a whole range of body positions.  You can imagine how great it must have felt for a 76 year old woman to get up off the floor so well.
She and I are still working on the stiff legged sit ups,but when she can add that.
This set of linked movements add up to a meaningful movement pattern for Marjorie.  She knows she can get up off the floor smoothly and painlessly.
Thanks again for a great workshop Ken!  now to devote my time to the challenging breath work drills you offered!
Sincerely,
Denise Palermo
The week after taking this workshop with Ken, I taught some of the skills I learned to each of my clients. With even the most basic of drills, most were surprised to find they didn't know what they couldn't do. By the end of the session, they had new, valuable skills. There were lots of laughs, big smiles and a great sense of accomplishment doing moves they haven't done since they were kids. Strength and mobility from play. It doesn't get better than that!
Marty Halland


Ability to sit and rise from the floor is closely correlated with all-cause mortality risk.
http://www.sciencedaily.com/releases/2012/12/121213085202.htm
Mobility is key to healthy aging
http://www.sciencedaily.com/releases/2013/09/130917161634.htm
Here is a sample of what we will be covering:
When & Where

Jason C Brown's Strength Garden
303 East Church Road
King of Prussia, PA 19406


Sunday, December 1, 2013 from 9:00 AM to 1:00 PM (EST)
Add to my calendar
Organizer
I'm Ken Froese and it is my hope is to make movement fun for you. So often exercise is seen as a chore; something we need to endure to keep ourselves in shape. Wouldn't it be great if your workouts were something to get excited about?
A quote that inspires me as I train is this:
"The only purpose of exercise is to feel your body".
Vladimir Vasiliev
By tuning into your body, you will learn to identify the habits that limit you, and discover that exercise and movement need never be boring.
GroundFlow encourages natural movement, free of tension and self-imposed restrictions. More than an exercise system; GroundFlow's principles can be practiced as you move through your everyday life; improving posture, breathing, comfort and athleticism. It can be incorporated into your other practices, to  improve your over-all well-being.
With an emphasis first on mastering movement, and then progressing to "loaded movement" using bodyweight on the ground, resistance bands, Kettlebells or free weights, GroundFlow is a flexible movement practice that will enhance whatever training system you are currently using.
Z-Health Master Trainer

Z-Health Instructor

Z-Health Essentials of Elite Performance

Z-Health R-Phase

Z-Health I-Phase

Z-Health S-Phase

Z-Health T-Phase

Z-Health Strength & Suppleness

Z-Health Sustenance & Spirit

Z-Health Skill & Style

Z-Health Structure

World Kettlebell Club Instructor 2007

RKC Kettlebell Instructor 2007 – Present

Assisted at 6 public RKCs and 2 private for the Military

RKC level II Instructor 2008 – Present

HardStyle Ventura 2009 with Pavel Tsatsouline

Return of the Kettlebell workshop with Pavel Tsatsouline 2009

Power to the People Seminar with Pavel Tsatsouline 2010

Met Method Level 1 Movement efficiency training

StrongFirst Kettlebell Instructor Level 1 

StrongFirst Kettlebell Instructor Level II
FMS Functional Movement Screen
2008 
CK-FMS Certified Kettlebell Functional Movement Specialist 
2013
Kinesio Taping Levels 1& 2

Avid Systema practitioner