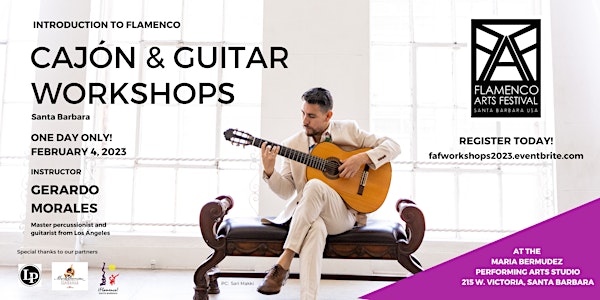 Intro to Flamenco Cajón and Guitar Workshops
This music program is an Access to the Arts initiative of the Flamenco Arts Festival.
When and where
Location
Maria Bermudez Flamenco Performing Arts Studio 215 West Victoria Street Santa Barbara, CA 93101
About this event
Since 2000, the Flamenco Arts Festival (FAF) has provided, through its Access to the Arts (ATTA) initiative, professional level instruction in flamenco dance and music conducted by industry experts. These classes are open to the entire community.
Register today! Early bird pricing ends December 31.
Give the gift of music. Purchase a class for that special someone. Just list the participant's name in the questionnaire when prompted.
Intro to Flamenco Guitar (2:00 pm - 3:30 pm): This class is for experienced guitarists with little to no flamenco training. The class will introduce the various flamenco techniques and styles appropriate to the class level. Guitars are not provided.
Intro to Flamenco Cajón - Box Drum (3:45 pm - 5:15 pm) : This class is open to everyone ages 10 and over. No previous experience required. Learn basic flamenco rhythms and techniques. The cajón, an Afro-Peruvian drum, is one of the most important percussion instruments in flamenco.
Twenty (20) cajónes will be provided, at no cost, to the first 20 registrants who need one, or bring your own. There is no guarantee a cajón will be available at the time you register.
GERARDO MORALES
Gerardo Morales (G Morales) is a guitarist, percussionist, composer and recording artist from Los Angeles who began playing music at the age of twelve years old. He began studying cajón with Peruvian cajónero Zarandonga and Latin percussion with Ricardo Tikki Pasillas. He has traveled the world as a professional musician, performing alongside such artists as Black Eyed Peas, Cristina Aguilera, Kanye West, with Grammy winner flamenco dancer Nino de los Reyes and Latin Grammy winner flamenco guitarist virtuoso Antonio Rey. He was privileged to teach several master workshops for cajón at the prestigious Massachusetts Institute of Technology (MIT) and New England Conservatory of Music in Boston, MA.
His early music studies began at Pasadena City College, The Pasadena Conservatory and later Conservatorio Profesional de Música Cristóbal de Morales in Sevilla, Spain. He studied privately with Kenton Youngstrom of the (Colburn School of Music) and Adam del Monte of (USC). He continued his studies with highly regarded flamenco guitarists of Madrid (Spain) El Entri, Kilino Jimenez, Jesus de Rosario, and Antonio Sanchez, nephew of the great Paco de Lucia.
He has released two contemporary collaborative albums - Dreaming Awake (G Morales), and Burning Star (Burning Star, artist collective). As a member of Burning Star, Gerardo Morales has performed with many popular artists including members of the Carlos Santana Band, Linkin Park, Los Rakas, Anderson .Paak, Marcus Miller, Talib Kwali, Jurassic 5, Rakim, Raekwon, Cypress Hill, System of a Down, Saul Williams, Ozomatli, Mos Def, KRS One and numerous other worthy acts. He is an essential member of LA's Subsuelo, and under his direction produces classical, flamenco, Latin, hip hop, R&B, and pop shows throughout the country.
Gerardo Morales has worked on films including Toy Story 3, Little Fockers, and Think Like a Man.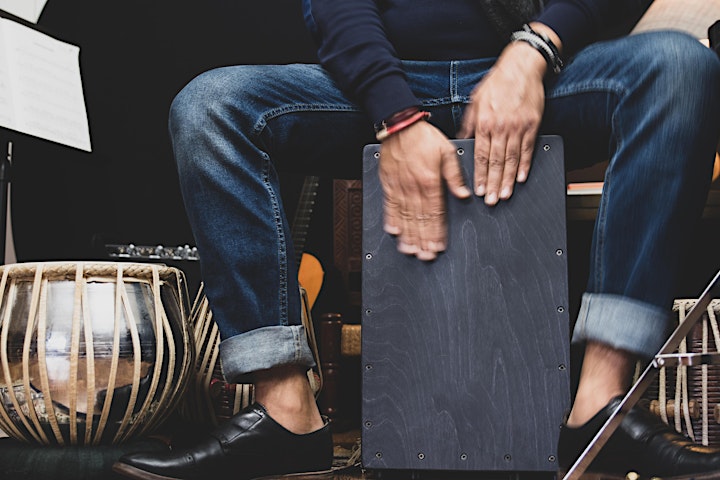 PC: GMorales photo by Sari Makki