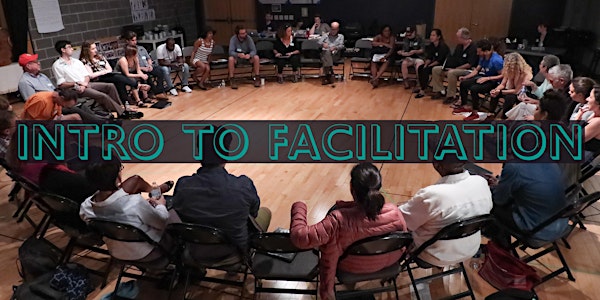 Intro to Facilitation
Group work shouldn't feel like a waste of time! If you're looking to shake up your meetings, this facilitation workshop is for you.
Date and time
Tuesday, April 4 · 1 - 2:30pm PDT
About this event
1 hour 30 minutes

Mobile eTicket
This online workshop introduces foundational skills, terms, and techniques for facilitating a wide variety of meetings and social spaces.
Whether or not we identify as facilitators, many of us frequently find ourselves in facilitation roles: hosting meetings, guiding and making space for discussion, problem-solving in group settings, and so much more. Stepping more fully and intentionally into a facilitation practice has a profound impact on the spaces we host, guide, and work in - enabling us to craft meetings and social spaces that are more direct, fair, participatory, efficient, and even fun.
If you're looking to revitalize your team meetings, rebalance the flow of participation in your group dialogues, or otherwise level up the social spaces you steward, this workshop is for you.
HERE'S THE DETAILS
In this 90 minute session held over zoom, we'll go over facilitation basics, getting clear on just what facilitation is (and isn't), and what you need to set yourself up to succeed in almost any setting you're facilitating. We'll also review (and practice!) several key tools from Build With's Facilitator's Toolbox, and dish on tips and tricks for how to adapt these practices to both online and offline environments.
In the end, you'll leave with...
a firm grasp on facilitation as a skill and practice
renewed confidence in yourself as a facilitator, and
concrete facilitation tools and techniques you can apply right away to level up the social and work spaces you lead, participate in, and care for
Participation in this workshop is required before taking our Diving Deeper into Facilitation Design class.
​​Questions? Email info@buildwith.org
SLIDING SCALE
Please note this event uses a sliding scale for ticket pricing. All tickets provide the same level of access to the workshop.
"When I pay more, I know that I am helping others to access the event. When I pay in the middle, I know I am helping the organizers cover costs. And when I pay at the bottom, I know I am letting my community hold me and support me. All of these are wonderful and acceptable ways of participating."
"Please be mindful that if you purchase a price at the lowest end of the scale when you can truthfully afford the higher ticket prices, you are limiting access to those who truly need the gift of financial flexibility. Being honest with yourself and your financial situation when engaging with sliding scale practices grows strong and sustainable communities." (Source: Sliding Scale Why, How, and Sorting Out Who)
For the last 20 years, Cuán McCann (he/him) has facilitated a variety of spaces, from conflict mediations, staff meetings, and adult education classes to community art spaces, unconferences, collaborative writing sprints, and so much more. It's a joy for him to blend what he's learned in his "formal" facilitation training with what he's learned through lived experience, family, and community.
Cu is a white queer and trans person of Irish and Southern Italian descent living on unceded Piscataway Territory in Baltimore, Maryland. He's the lead trainer and founder of Build With, a design, facilitation, and training practice dedicated to helping communities and teams working for social change nurture and deepen their collaboration.
About the organizer
Build With is a design, facilitation, and training practice led by Laurenellen McCann. We help communities and teams working for social change nurture and deepen your collaboration skills and know-how. In other words, we're here to help you work together better — not in a cutesy, buzzwordy way. In a highly practical, doesn't-always-feel-great-but-is-absolutely-vital-to-transforming-ourselves-and-the-world-we-live-in way.
If you're looking to put your actions where your values are when it comes to communal work and cooperative practices, there's so much we can do together. More at buildwith.org