Description
With an estimated industry value of $892.8 Million, eSports is quickly on its way to becoming a mainstream entertainment outlet all over the world. Just recently, the League of Legends Championships was hosted at the Staples Center in Los Angeles and live streamed to more than 36 million eSports fans worldwide.
Tech in Motion would like to invite you to join us at the UCI eSports Arena to see what this new phenomenon is all about!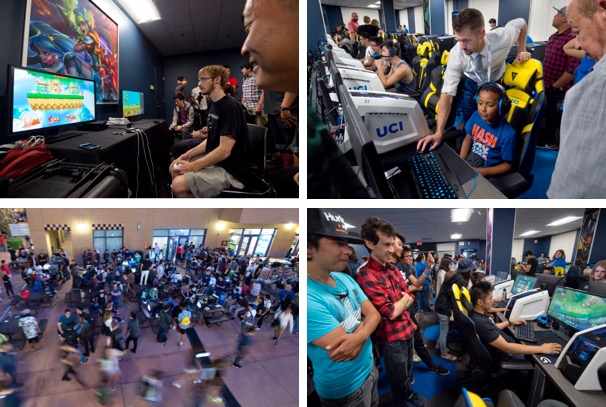 photos by University of California, Irvine
CONNECT
Join Tech in Motion and UCI eSports networks to talk all things gaming! Learn about the newest technologies, hardware products and the most popular games.
LEARN
Gain unique insight on the eSports industry from Mark Deppe, the Acting Director of UCI's eSports Arena, as he sheds light on how this industry came about and where it's headed in the years to come.
DEMOS
Oomba, Inc. is a specialized social media company that is creating an interactive social network for tournaments, leagues and teams. The explosion of youth sport, eSport, and game play has made tournaments a required service. Publishers lack the resources to improve the current tool set individually. Oomba revolutionizes how people organize sports and games by melding software as a service with a social network.
iBUYPOWER is a custom gaming PC company located in the heart of the City of Industry, CA. Since 1999, iBUYPOWER symbolizes several key beliefs: Innovation, Quality, Selection, Community, Performance. Leading the pack, iBUYPOWER is gaming, defined.
SPONSORS
LearningFuze - Our Full Immersion Training Course objectives revolve around hands-on coding projects and building viable web applications that prepare students to compete for development jobs in the marketplace. We provide the tools, resources and contacts to make that happen! Students learn to become proficient web developers over a 12 week period plus a two week prep period from Senior level developers by learning the specific technologies most in need in the marketplace while also honing their soft skills important in a collaborative work-like environment. For students not able to participate in a full immersion program there are part time web development courses available also.
PLAY
Rare opportunity to interact first-hand with Southern California's most advanced video game dojo and test drive some of the most popular games in the market including:
EVENT AGENDA
6:00 - 7:00 pm | Check In, Network & Demo
7:00 - 7:15 pm | Keynote Speech from Mark Deppe
7:15 - 8:30 pm | Free Play & Demo Showcases
>>PARKING<<
The closest parking to the venue is located in the structure on the corner of Campus Dr and W Peltason Dr. Enter through Student Center (go upstairs)
$2 per hour OR $10 per day
• Visit TechinMotionEvents.com
• "Like" us on Facebook!
• Join the conversation on Twitter! Share and follow along with @Tech_in_Motion
• Check out our Tech Job Board
• Read insightful content from our speakers across the country on our blog
• Want to sign up for our email list? Click Here!
• Interested in sponsoring a Tech in Motion event? Click Here!