Description
Are you an entrepreneur starting a new company? Recently moved your company to Texas? Looking for ways to influence people to drive traffic to your business or brand?
Join us at Capital Factory + The DEC for happy hour and a live AMA all about entertainment innovation in Texas! Come hear an overview from experienced entrepreneurs, venture capitalists and even a former executive for Marvel. You'll have a chance to introduce yourself, mingle and ask questions!
SPEAKERS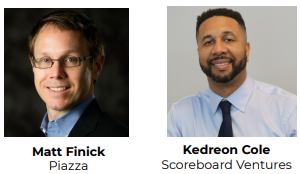 Matt Finick was an early executive and helped build two media/tech unicorns (Marvel Studios, ROBLOX). While he love numbers and putting in processes that scale, he is also a huge people person. So Matt has deep relationships across groups at Marvel/Disney, Fox, Discovery, Legendary, EA, ROBLOX, Mattel, and Hasbro.
Kedreon Cole is the Vice President of Gaming & Esports at Scoreboard Ventures, a Frisco based investment firm. Ked serves as the primary liaison for Scoreboard's esports initiatives and as an Entrepreneur in Residence for the firm, working on technology products that can be deployed across the esports industry.
YOU'LL GET ANSWERS TO QUESTIONS LIKE...


Where is the entertainment industry trending?
How do I get plugged into the Dallas entertainment startup sene?
What events should I go to?



YOU WILL FIND OUT ABOUT...


Why Texas
Capital Factory
Marvel
Film Innovation
Esports
HAVE QUESTIONS BEFOREHAND?
Email trietnguyen@capitalfactory.com with the subject line: Entertainment Innovations Questions!
PARKING
For more information on Parking at Capital Factory + The DEC please visit our site.