Description
Class Schedule (three sessions over three weeks):
Intro to Drawing Session 1: April 6: 1:30 pm - 3.30 pm
Intro to Drawing Session 2 : April 13 1:30 pm - 3.30 pm
Intro to Drawing Session 3 : April 20 1:30 pm - 3:30 pm
This is a series of three classes where we will learn how to draw linear perspective, proper use of light and shading techniques (this will create depth, giving the drawing a third dimensional feel and atmospheric perspective). This class shows our students the importants of where light hits a subject, shadding to gain depth of an object and the horizon lines to establish view. once these skills are learned your child will be the best artist in your family!
Ages 7+

Learn about blending, viewpoints, lighting, and horizon lines

Please register early so we can be sure we have a sufficient amount of materials!
Instructor Bio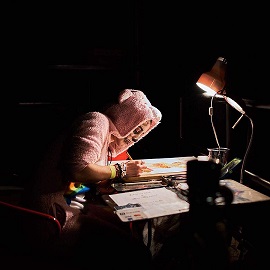 Ink is an artist hailing from Maine. Her roots of public painting began from graffitiing on walls, under bridges and abandoned buildings. She started with just a little "toy" name that complimented her love of hip-hop. From that love erupted her creative mind to branch out more; to follow her true calling, her passion and make her tools be an extension of self. Her art is more than just an expression and creative outlet, to her it is another form of entrainment. She tries to capture environmental dilemas, beauty, humor, everyday life and emotions to help people see life in her perspective.
IMPORTANT EVENT INFO
Parental accompaniment required.
Class fees : All class fees include materials.
Refund policy: 7 Days