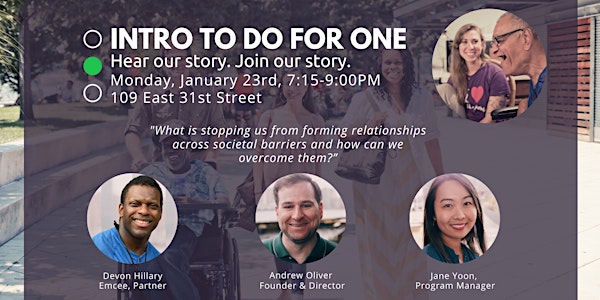 Intro to Do For One:Hear our story. Join our story
Join us for "Intro to Do For One" where you'll hear stories of transformative relationships and learn about how you can get involved!
When and where
Location
109 E 31st St 109 East 31st Street New York, NY 10016
About this event
In this introductory session you will learn about Do For One's approach in addressing the core issue of devaluation that people with disabilities face and why personal and freely-given relationships is our response.
We ask, "What is stopping us from forming relationships across societal barriers and how can we overcome them?"
Agenda:
Doors open @ 7:15pm. Please try to arrive near 7:15pm so we can begin promptly at 7:30pm!
The presentation will run promptly from 7:30-8:40PM. You will gain a deeper understanding of the history and philosophy behind Do For One's mission. You will hear stories about real Do For One relationships, and learn about a number of ways for you to support our mission and get involved.
There will be extended time from 8:40-9:00PM for Q+A and one on one conversations with Do For One Staff. We would love to get to know you and what interests you about Do For One's mission!
If you are running late, and your time of arrival is later than 7:45pm, we kindly ask that you attend a future session instead as attending the FULL orientation is a requirement for participants in our program.
For those potentially interested in becoming matched in a one-on-one supportive relationship with a person with a disability, please note that in 2023, our focus will be on recruiting people with disabilities living in MANHATTAN and WEST/CENTRAL QUEENS primarily. We welcome Advocates living anywhere to get involved, but please know that it is unlikely you will be able to be matched with someone living in Brooklyn, Bronx, Long Island, East Queens, or Staten Island.
The workshop will be led by:
Andrew Oliver, Do For One's Founder & Executive Director
Jane Yoon, Do For One's Program Manager
Once you register for the orientation session through Eventbrite, you will be e-mailed more information and reminders leading up to the event.
This 2 minute video will give you a quick overview of why and how Do For One got started.
Come journey with us!