Description
Join Capital Factory and Defense Innovation Unit to find out how you can get plugged into the Defense Innovation Startup Scene! Come hear an overview from experienced government contractors and leaders in the defense innovation sector and get a chance to introduce yourself and ask questions! Join us at Capital Factory + The DEC for HAPPY HOUR and a live AMA all about the Dallas Defense Innovation Startup Scene!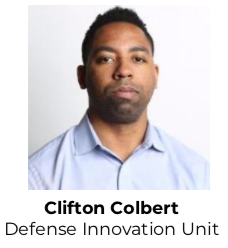 Clifton Colbert is the Commercial Engagement Executive for Defense Innovation Unit(DIU). Clif is focused on build relationships and awareness with the national defense innovation base in Texas. DIU provides non-dilutive capital in the form of pilots contracts for commercial innovation that solves current Department of Defense(DoD) problems. Pilotcontracts can include hardware, software, or unique services. More importantly, after a successful pilot, the company involved and any DoD entity can easily enter into follow-on contracts quickly. Clif served as a Lieutenant in the United States Navy for 6+ years in various locations around the world focused on surface warfare and special operations. Clif splits his DIU time with J.P. Morgan Chase & Co. full time as a Commercial Banker focused on large privately held companies located in North Texas.
You'll get answers to questions like...
Why startups should work with the government?
What opportunities there are for your startup?
How contracting with the government works?
What is a "solicitation"?
How to protect yourself against risks?
You will find out about...
Why Dallas?
Capital Factory
Department of Defense - Defense Innovation Unit
Government Contracts
Defense Innovation fast track programs
Incubators & Accelerators
Examples of successful startups that won government contracts
Plus answers to your own questions!
Have questions for the speakers beforehand? Email trietnguyen@capitalfactory.com with the subject line Defense Innovation AMA Questions!