Description
Join Capital Factory to find out how you can get plugged into the Defense Innovation Startup Scene! Come hear an overview from experienced government contractors and leaders in the defense innovation sector and get a chance to introduce yourself and ask questions!
Already taken a tour of Capital Factory? Awesome! The event starts at 4:30PM after the 4PM tour.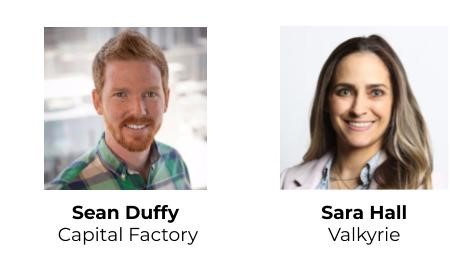 SPEAKERS
Sean Duffy is the Senior Partnerships Manager at Capital Factory, helping bridge the gap between startups and corporate innovators through strategic programming and community events. As a former classroom teacher, Sean is a passionate education and technology evangelist, community organizer and founder of EdTech Austin
Sara Hall is a Data Scientist at Valkyrie with experience in bioinformatics, metagenomics and data engineering. She has a Master's of Biology from Texas State University where she holds a patent for a novel discovery of biofilm dispersion. She holds a Bachelor's of Science from Texas A&M university where she studied wildlife population dynamics. She previously worked at Cloudera as a customer operations engineer managing and designing custom cloud and on-premises data clusters. Sara is also a US Navy veteran. She served 7 years in the Navy.
WHAT TO EXPECT

4:00 PM Tour
4:30 PM Intro to Defense Innovation
5:00 PM Guest Speaker & Ask Me Anything
6:00 PM Happy Hour
YOU'LL GET ANSWERS TO QUESTIONS LIKE...
Why startups should work with the government
What opportunities there are for your startup
How contracting with the government works
What is a "solicitation"?
How to be protect yourself against risks
Examples of successful startups
FedBizOpps
The FAR
Departmet of Defense - Defense Innovation Unit
US Army - Army Futures Command
Air Force - AFWERX
Special Operations - SOFWERX
Plus answers to your own questions!


YOU WILL FIND OUT ABOUT...
Why Austin?
Capital Factory
Department of Defense - Defense Innovation Unit
Government Contracts
Defense Innovation fast track programs
Incubators & Accelerators
Examples of successful startups that won government contracts
PARKING
Please go here for more information about parking at Capital Factory.