Description
Join Capital Factory to find out how you can get plugged into the Defense Innovation Startup Scene! Come hear an overview from experienced government contractors and leaders in the defense innovation sector and get a chance to introduce yourself and ask questions!
Already taken a tour of Capital Factory? Awesome! The event starts at 4:30PM after the 4PM tour.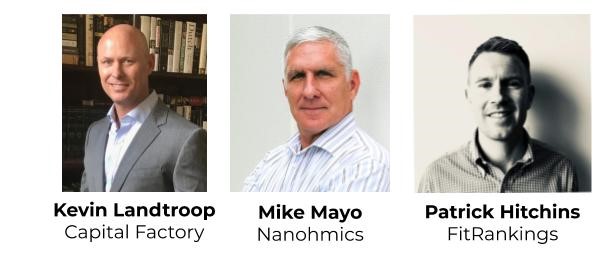 Mike Mayo is cofounder and President of Nanohmics, Inc. In his more than 15 years as head of Nanohmics, Mike has lead the team's strategic business planning, commercial partnerships and technical direction as well as all financial and resource management of the firm.
For the past decade Patrick Hitchins has helped the biggest companies in sport, fitness, and health push their technology, brand, and creativity. He has been regularly featured in SGBNews, Outside Magazine, Huffington Post, Business Insider, Yahoo Finance, etc
Kevin is an operations-focused attorney applying extensive national security expertise to advance defense innovation and technology. An experienced leader, hes directed strategy, policy, and operations for a large, nationwide legal organization and built small, cross-functional teams to solve complex problems in dynamic environments. Kevin is passionate about helping organizations visualize where they need to go; plan the most direct, resource efficient, and legal route to get there; and lead them along the path.
AGENDA

4:00pm Tour
4:30pm Intro to Defense Innovation
5:00pm Guest Speaker & Ask Me Anything
6:00pm Happy Hour
You'll get answers to questions like..
Why startups should work with the government
What opportunities there are for your startup
How contracting with the government works
What is a "solicitation"?
How to be protect yourself against risks
Examples of successful startups
FedBizOpps
The FAR
Departmet of Defense - Defense Innovation Unit
US Army - Army Futures Command
Air Force - AFWERX
Special Operations - SOFWERX
Plus answers to your own questions!


You will find out about...
Why Austin?
Capital Factory
Department of Defense - Defense Innovation Unit
Government Contracts
Defense Innovation fast track programs
Incubators & Accelerators
Examples of successful startups that won government contracts
PARKING
Please go here for more information about parking at Capital Factory.