Description
Join Capital Factory to find out more about how you can get plugged into the Defense Innovation Startup Scene! You will hear a comprehensive overview from experienced professionals in the defense scene and also get a chance to introduce yourself and ask questions. This is your chance to learn about new defense opportunities, working with the government, defense fast track programs and much more.
You can join in from the comfort of your desk at work or even your couch at home! Most of the events we do at Capital Factory are in person, but webinars allow more people to participate who are limited due to their location or conflicting schedules.
Once you're ready, click here to join the webinar!
SPEAKERS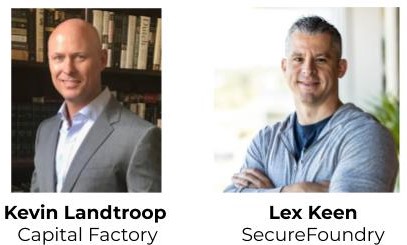 Kevin Landtroop is an operations-focused attorney applying extensive national security expertise to advance defense innovation and technology. An experienced leader, hes directed strategy, policy and operations for a large, nationwide legal organization and built small, cross-functional teams to solve complex problems in dynamic environments. Kevin is passionate about helping organizations visualize where they need to go; plan the most direct, resource efficient and legal route to get there, and lead them along the appropriate path.
Lex Keen is founder of SecureFoundry, a firm specializing in the commercialization and domestication of critical technologies. His current projects include Tamper Resistance, Post Quantum Security, and Multi E-Beam Direct (MEBDW) Write Lithography (3D printing for microchips). He sits on NATO's Quantum Capabilities Expert Group, NDIA's Defense Industrial Base working group, and joint US/Netherlands venture for MEBDW. Previously he served as U.S. Cyber Command's Technical Director for Counterintelligence. Today he is a Marine reservist attached to the Pentagon's C4 unit, who identifies, experiments with, and analyzes new communication and information system technologies for the warfighter.
You'll get answers to questions like..
Why startups should work with the government
What opportunities there are for your startup
How contracting with the government works
What is a "solicitation"?
How to be protect yourself against risks
Examples of successful startups
FedBizOpps
The FAR
Departmet of Defense - Defense Innovation Unit
US Army - Army Futures Command
Air Force - AFWERX
Special Operations - SOFWERX
Plus answers to your own questions!


You will find out about...
Why Austin?
Capital Factory
Department of Defense - Defense Innovation Unit
Government Contracts
Defense Innovation fast track programs
Incubators & Accelerators
Examples of successful startups that won government contracts
PARKING
Please go here for more information about parking at Capital Factory.