Description
Join Capital Factory to find out how you can get plugged into the Defense Innovation Startup Scene! Come hear an overview from experienced government contractors and leaders in the defense innovation sector and get a chance to introduce yourself and ask questions!
This month's Defense AMA will focus on the SBIR Program! We will be featuring Ryan Erikson, SBIR Asst Program Manager at AFWERX, and Mark Childers, Defense Programs Coordinator at Capital Factory.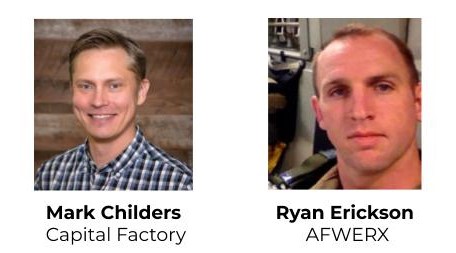 From the Tampa-area initially, Mark worked in human intelligence and counterintelligence for eight years as an NCO in the US Army. Experience supporting conventional, special operations, and DIA task forces domestically and abroad. Developed government procurement bidding infrastructure for an Austin-based electronics manufacturer and started a behavioral science consulting and training firm before CF. Currently ensuring strong defense-related programming and relationships with the Texas-based startup scene at Capital Factory.

Master Sergeant Ryan Erickson is a member of AFWERX-Austin and the Air Force Recruiting Service Innovation Team. He is currently working as an assistant program manager for the Open Topics of the Air Force Small Business Innovation Research (SBIR) program involved with 18.3,19.1 and 19.2 cohorts. He is also serving as a Joint Terminal Attack Controller (JTAC) Weapons Officer with the Texas Air National Guard at the 147th Air Support Operations Squadron. He has six combat deployments and carries qualifications of jumpmaster, sniper and pathfinder.
Already taken a tour of Capital Factory? Awesome! The event starts at 4:30PM after the 4PM tour.
AGENDA

4:00 PM Tour
4:30 PM Intro to Defense Innovation
5:00 PM Guest Speaker & Ask Me Anything
6:00 PM Happy Hour
You'll get answers to questions like..
Why startups should work with the government
What opportunities there are for your startup
How contracting with the government works
What is a "solicitation"?
How to be protect yourself against risks
Examples of successful startups
FedBizOpps
The FAR
Departmet of Defense - Defense Innovation Unit
US Army - Army Futures Command
Air Force - AFWERX
Special Operations - SOFWERX
Plus answers to your own questions!


You will find out about...
Why Austin?
Capital Factory
Department of Defense - Defense Innovation Unit
Government Contracts
Defense Innovation fast track programs
Incubators & Accelerators
Examples of successful startups that won government contracts
PARKING
Please go here for more information about parking at Capital Factory.