Join Capital Factory to find out how you can get plugged into the Defense Innovation Startup Scene.
About this event
Join us for Capital Factory's Monthly Defense Innovation Ask Me Anything! You will hear a comprehensive overview from experienced professionals in the defense scene and also get a chance to introduce yourself and ask questions. This is your chance to learn about new defense opportunities, working with the government, defense fast track programs and much more.
This month, we hear from AFWERX's Chief of Operations, Lt Col Martin Salinas. Tune in to hear Capital Factory's Jorge Manresa lead this exciting Q&A. Don't forget to ask questions!
Get your ticket NOW for email reminders so you don't forget about chatting with Col Salinas.
What to Expect
2:00 PM- Intro to Capital Factory
2:15 PM-Jorge Manresa introduces Lt Col Salinas
2:20 PM- 1-on-1 conversation begins
2:35 PM- Audience Q&A
You'll get answers to questions like...
Why startups should work with the government.
What opportunities there are for your startup.
How contracting with the government works.
What is a "solicitation"?
How to be protect yourself against risks
Examples of successful startups
FedBizOpps
The FAR
Department of Defense - Defense Innovation Unit
US Army - Army Futures Command
Air Force - AFWERX
Special Operations - SOFWERX
Plus answers to your own questions!
You'll find out about...
Capital Factory
Department of Defense - Defense Innovation Unit
Government Contracts
Defense Innovation fast track programs
Incubators & Accelerators
Examples of successful startups that won government contracts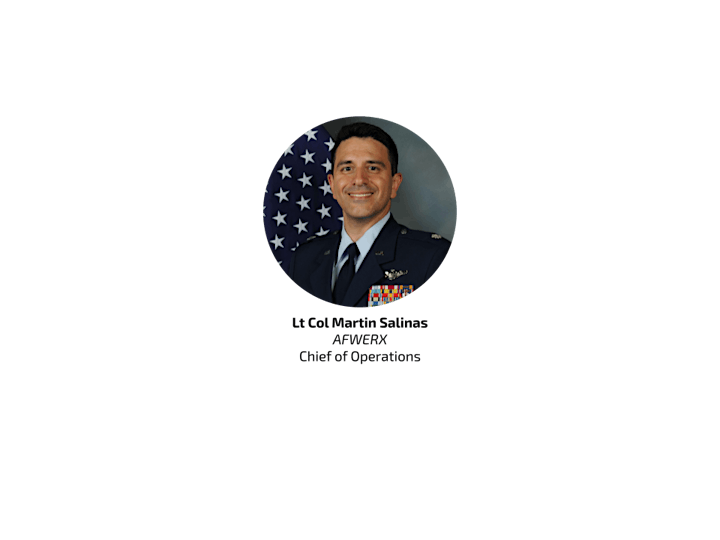 Speaker Bio:
Lt Col Martin Salinas is the Chief Operations Officer for AFWERX, Air Force Research Laboratory, Austin, TX.
Col Salinas received his commission through the Air Force Reserve Officer Training Corps program in 1999 from Texas A&M University, and completed undergraduate navigator training at Randolph AFB, Texas.
His operational experiences include duty as a B-52H Standardization and Evaluation Electronic Warfare (EW) Officer with the 96 Bomb Squadron, Barksdale AFB, LA, and as an Undergraduate EW and Navigator training instructor with the 563 Flying Training Squadron, Air Education and Training Command (AETC) Randolph, AFB, Texas.
Following this, Colonel Salinas was assigned to the Air Force Personnel Center as Chief of Bomber assignments where he managed 1200 personnel across multiple specialties and lead the development of strategic manpower planning for B-52 and B-2 bomber aircraft personnel.
He has served as the Secretary of the Air Force International Affairs' inaugural Italian Air Staff Exchange Officer, in Rome, Italy where Colonel Salinas worked closely with multiple levels of political and military stakeholders to include the Italian Ministry of Defense, the Italian Joint Staff, and The U.S. Embassy.
In returning to the United States, Colonel Salinas served as the 2d Operations Group Deputy Commander, 2d Bomb Wing Inspector General, Barksdale AFB, Louisiana, and then Director of Operations for the F-35 U.S. Reprogramming Laboratory, Eglin AFB, Florida.
Prior to his current position he was the Mission Design Team lead for AFWERX Agility Prime and a Test Director for the Air Force Operational Test and Evaluation Center (AFOTEC), Detachment 2, Eglin Air Force Base, Florida. As a Test Director he led test and operational context initiatives for experimental programs such as Agility Prime's electronic vertical take-off and landing aircraft portfolio, and Skyborg's Autonomous Attritable Aircraft experiment (AAAx).
Organizer of Intro to Defense Innovation & AMA feat. Lt Col Martin Salinas