| | |
| --- | --- |
| Intro to CMMI® for Development V1.3, March 25-27, 2019 and Services Supplement for CMMI® for Development, March 27, 2019 | |
Event Details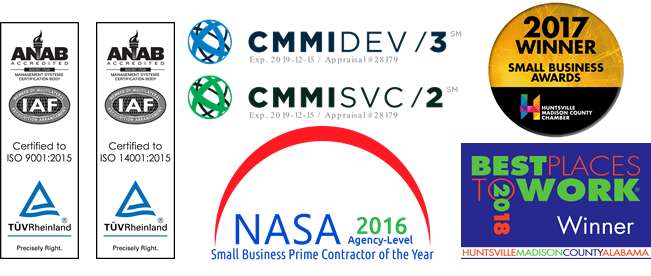 Introduction to Capability Maturity Model® Integration (CMMI®) for Development Version 1.3
And
Services Supplement for CMMI for Development
Cepeda Systems & Software Analysis, Inc. (CSSA), a CMMI Institute Partner and a CMMI-DEV Level 3 and CMMI-SVC Level 2-rated company, is offering a public course in Huntsville, AL, March 25-27 for the CMMI Institute's Introduction to Capability Maturity Model Integration (CMMI) for Development Version 1.3. CSSA will also be offering the Services Supplement for CMMI for Development course, on March 27. CSSA has been the local premier provider for CMMI training since 2002. We have trained hundreds of students and assisted organizations in successfully interpreting and implementing the model and achieve their business goals and objectives 

Introduction to CMMI Version 1.3 – If you would like to learn how to develop high quality products and improve delivery of promised product performance, cost and schedule, this course is for you. This 2.5 day course introduces participants to CMMI for Development (CMMI-DEV) v1.3 and its fundamental concepts. CMMI-DEV is a comprehensive set of guidelines that helps organizations improve their ability to develop, acquire, and maintain quality products. Introduction to CMMI for Development helps prepare participants to make valid judgments regarding an organization's implementation of industry's best practices for product development. The course is helpful in identifying issues that are addressed in performing process improvement as defined by the CMMI-DEV model.
The registration fee of $1,670 includes the CMMI for Development v1.3 book, acourse notebook, CSSA-developed quick reference materials, morning and afternoon refreshments, and breakfast and lunch each day.
Services Supplement for CMMI for Development – If you would like to learn how to ensure the effective delivery of services and achieve superior service quality, controlled costs, improved schedule performance, and high levels of customer satisfaction, this course is for you. This half-day course introduces participants to the CMMI for Services (CMMI-SVC) model and to fundamental concepts related to service delivery. CMMI-SVC defines effective practices that ensure quality services are delivered to customers and end users. Domains that would benefit from using CMMI-SVC include operations, logistics, maintenance, IT, engineering, program management, and many other services in government and industry.  The Introduction to CMMI-DEV class is a pre-requisite for the Services Supplement for CMMI for Development class.
The registration fee of $600 includes the CMMI for Services model, a course notebook, a CSSA-developed CMMI-SVC quick reference guide, and refreshments.
These courses fulfill a prerequisite requirement for an official CMMI Institute Introductory CMMI for Development or CMMI for Services course, and are a prerequisite for being a Lead Appraiser, Team Leader, or Team Member on a SCAMPI appraisal using the CMMI-DEV or CMMI-SVC models. Enrollment for these courses is limited.CSSA reserves the right to cancel this class in advance. Refunds will be given.

(Optional: $2,043 for both Intro to CMMI-DEV and Services Supplement) 
About CSSA
CSSA is based in Huntsville, AL, and provides process improvement and software and systems engineering services to projects and organizations of all sizes in a wide variety of industries.  Further information on our services can be obtained at: www.cepedasystems.com
About the Instructors
Sandra Cepeda, President and CEO of CSSA, is a certified instructor for this course. As a contributing author of both the CMMI model and the SCAMPI appraisal method, a SCAMPI High Maturity Lead Appraiser, and a CMMI Institute Consultant, Lead Appraiser, Instructor, and Observer, Sandra brings unique and invaluable insights into the background and interpretation of CMMI models. Her 31 years of hands-on service delivery and product development, as well as process improvement background, provide students with a practical approach to applying the model in their organizations. Sandra holds a B.S and M.S in Computer Engineering from Auburn University.
Harini Daram, PMP, Senior Process Improvement Engineer, has 18 years of professional experience in both government and commercial sectors. She is a certified instructor for the Introduction to CMMI for Development course. Harini has hands-on product development experience across the life cycle for Army, Air Force, and NASA programs. She is also experienced in Quality Assurance and has co-led and participated as a CMMI expert in CMMI® initiatives resulting in successful SCAMPI appraisals. She received a BSEE from the University of Alabama in Huntsville and a MSCS from Alabama A&M University. She is a member of Project Management Institute.

Terms and Conditions:
CSSA reserves the right to cancel this course. If CSSA cancels this course, we will notify the registered attendees and refund all registration fees. CSSA assumes no responsibility for any other expenses accrued by registered attendees.

Refunds are not available, and cancellations will not be accepted for this class.  However, you may substitute a different student.

CSSA reserves the right to change instructors at any time, and without prior notice.
® CMM - Capability Maturity Model and CMMI - Capability Maturity Model Integration are registered in the U.S. Patent and Trademark Office. SCAMPI is a service mark of Carnegie Mellon University.


Save This Event
Where

CSSA, Inc.
2225 Drake Ave SW
Suite 7
Huntsville, AL 35805


Organiser
Cepeda Systems & Software Analysis, Inc. (CSSA)
2225 Drake Ave SW
Suite 8
Huntsville, AL 35805
256.428.8186