Description
We are electromagnetic beings. Our thoughts and bodies generate energy that attract similar frequencies in the form of people & events into our lives.
There's 7 energy centers "chakras" in your body. You will learn what essential oils to apply and what kundalini & white-tantra yoga techniques to practice to activate and cleanse them.
*You'll also receive samples of essential oils to take home!

---


During the course of the evening, you will have the opportunity to participate in a hands-on demonstration on how and where to apply Certified Pure Therapeutic Grade essential oils to these centers to promote harmony and balance.
You will practice meditation, breathing and other techniques from kundalini & white-tantra yoga for each chakras.
FACILITATORS:


Jihan Bouraad, LMT holds the vision of a world where all people experience a positive relationship with touch and a conscious connection of the body with the mind. She created her Massage Therapy and Essential Oil practice, Jihan Essentials, to provide and educate people on the benefits of regular therapeutic touch and essential oil self-care protocols. She is a graduate of the Pacific College of Oriental Medicine, Mama Gena's School of Womanly Arts, has completed Leadership training programs with Momentum Education and is a Wellness Advocate for doTERRA essential oils. While not working with clients, Jihan can be found leading essential oil workshops, on her yoga mat, or indulging in delicious self-care!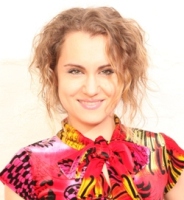 Maya Kova is a transformational coach based in New York, NY. She has been studying different modalities of conscious-living for 10 years. Maya is trained with Charles Muir (Tantra Yoga), Hari Kaur (Kundalini Yoga), Xu Mingtang (Zhong Yuan Qigong), Mantak Chia (healing TAO), John Newton (healing arts), Sadhguru (Inner Engineering). Her mission is for you to experience conscious mind & sensual body to unleash your full potential to shine!