Intro to Beekeeping & Honey Harvesting Seasonal 5 Session Course

Tuesday, May 16, 2017 from 6:30 PM to 9:00 PM (CDT)
Event Details
AUSTIN HONEY COMPANY @SPRINGDALE FARM
Back by popular demand!  Full 14 hours of instruction and 5 seasonal sessions!
Beekeepers Raul Vergara and Mark Bradley of Austin Honey Company are offering their intensive hands-on beekeeping course again this spring!  If you are serious about learning beekeeping and how to manage the honeybee through all life stages, seasons, and how to harvest your own honey then this is your course.  Learn to manage honeybees successfully as we do here in Central Texas with the confidence they will not only survive, but thrive!  This is an intense collegiate level course designed to equip new beekeepers with the fundamentals and confidence for enduring success.  The first 2 sessions are evening indoor classroom sessions and each of the field sessions are seasonally relevant--all at Springdale Farm working with our bees onsite!  Course requires your own full bee suit with veil and gloves, along with sturdy shoes prior to the first field session.  Course details and outline are below.  Ideally, all participants would join us for each session as they build on the previous one, but if you have to miss a session we will refund you the $39 fee for that session.  Participants 13 and up with signed participation agreement required prior to the start of the field session.  We will also be offering bees and new equipment for sale to our students as an option for them locally.  We hope you can join us!
COURSE OUTLINE:
I.       Introduction (INDOORS TUES MAY 16th 6:30 pm-9:00pm)
A.     Anatomy and physiology of the honey bee
B.     History of honey bees in the United States
C.     Common races and identification of bees in the United States
D.     Life stages of the colony
E.     Honey bees' importance as pollinators
II.      Beekeeping equipment (INDOORS THURS MAY 18th 6:30pm-9:00pm)
A.     Hive components system and selection of equipment
B.     Tools, equipment, and clothing of the beekeeper
C.     How to obtain bees & various methods 
D.     When and how to start raising bees
E.     Local and state laws for beekeepers
F.     Determining good location for the hive
III.    Spring management of honey bee colonies (*FIELD PORTION SAT MAY 20th 9am-12pm)
A.     Working in the hive and record keeping
B.     Installing a package of bees and a nucleus hive
C.     Feeding methods for the colony (to help build them up so they don't die)
D.    Managing the bee hive
E.     Recognizing and treating diseases and pests, Organic IPM
F.     Medications and essential oils and their uses, Organic IPM
G.    Nectar and pollen plants
H.    Swarming and swarm prevention
I.     Supering hives (to make honey!)
J.     Catching swarms
K.     Dividing colonies and re-queening
L.     Combining colonies and equalizing
IV.    Summer management and honey production (FIELD PORTION SAT JUN 24th 9am-12pm)
A.     Removing the honey crop
B.     Processing the honey (INDOORS)
C.     Storing honey supers after harvest
D.     Taking some of the freshly harvested honey home with you!
V.     Fall and winter management (*FIELD PORTION SAT SEP 16th 9am-12pm)
A.    Moving hives, Combining/Equalizing colonies
B.     Checking for honey & pollen stores & queen strength
C.     Feeding bees & IPM
D.    Closing up hives & winter cold management
*Field portions require your own full bee suit with veil and gloves, hive tool, and sturdy shoes/boots (no open toe shoes)
Beekeeping Equipment Suppliers so you can buy your protective equipment prior to the course (we suggest the fully ventilated bee suits for comfort, please see picture below of our recent bee hive tours):
1.  Mann Lake Ltd. - www.mannlakeltd.com ($100 free shipping offer, ships quickly from Marshall,TX)
2.  Dadant - www.dadant.com (ships quickly from Paris, TX location, but you have to ask for it)
3.  Kelley Beekeeping - www.kelleybees.com (ships from KY)
You can also buy what is called a "package" of bees from the above suppliers, but we suggest starting with what is called a "nucleus" hive.  Really good videos on Youtube of the difference of each.  We suggest purchasing a nuc, as it will establish faster and you will be more successful.  You may purchase nucs from us which will be very similar to what other local Texas suppliers are offering (Bee Weaver & R Weaver) only we will charge a bit less as a discount because you are our student.  To get an idea of the cost of bees and equipment this is a good rough budget number:
1.  Our Complete Bee Hive system with all new components to include 2 honey boxes (painted and assembled)  - $400
2.  Ventilated Bee Suit with veil, gloves, and hive tool - $190
3.  Nucleus colony of bees with 4 frames of brood, bees, and honey plus gentle queen & div board feeder (local Austin area pickup in May) - $250
4.  Various other optional tools and equipment - $100
Total investment to start one new hive of bees -  about $950 for each hive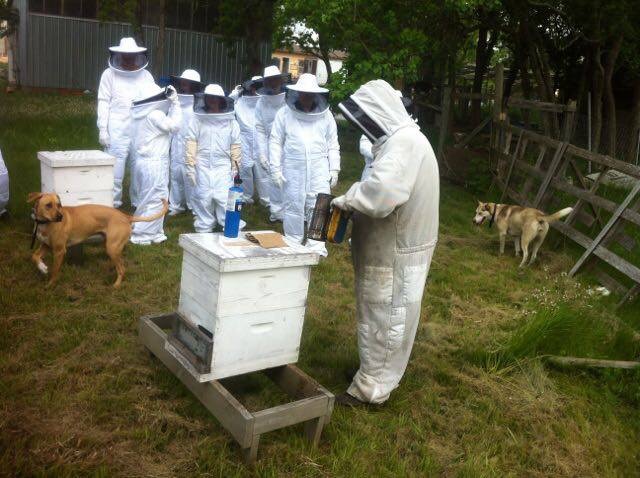 When & Where

Springdale Farm
755 Springdale Rd
Austin, TX 78702


Tuesday, May 16, 2017 from 6:30 PM to 9:00 PM (CDT)
Add to my calendar
Organizer
Raul Vergara & Mark Bradley
Austin Honey Company's beekeepers are on an organic food mission by placing naturally managed beehives on local organic farms within a 30 mile radius of downtown Austin.  Our bees help pollinate all the good food they are growing and have a great place to thrive on the farms.  We want to share our passion about beekeeping with the local community.
Intro to Beekeeping & Honey Harvesting Seasonal 5 Session Course