Description
Intro to 360 Filmmaking
Since the release of the first motion picture camera in the 1890's, humans have been using video to tell compelling stories. Film is an expression of the human imagination, it enables us to see the world from another perspective and escape from our own lives. 360 video and virtual reality are the newest mediums for telling our stories.
Whenever another medium arsises a unique opportunity presents itself: to set a new paradigm and influence the next generation of storytellers. In this 3-day workshop, you will learn the basics of 360 filmmaking and create a short 360 video. You will go through the full pre-production to distribution process, learning techniques and the evolving best practices. Upon completion, you will have a foundation of skills and knowledge to begin your journey as a 360 filmmaker.
WHAT'S INCLUDED:
• 2 Days of Intensive Skills Training & Networking Dinner
• Samsung 360 Cameras and GearVRs for filming
• Access to Work with Instructors one-on-one
• One Day Pass to Upload SF or Upload LA
• Healthy Lunch & Refreshments
Friday, April 28 (6:30pm-9pm)
6:30pm: Dinner, drinks and play VR games in our Holodeck Rooms (dinner catered by Chewse)

7:00pm: Guest Speaker

7:20pm: Icebreaker

7:30pm: Intro to 360 Storytelling

8:00pm-9:00pm: Student Brainstorming, analyze 360 experience light drinks and hanging out for the night
Saturday, April 29 (10am-6pm)
10:00am: Introduction to The Day, log line explanation, pre-production 101

10:30pm: Form Groups, Pre-Production Plan, Scripts

12:00pm: Lunch

1:00pm - 6:00pm: Production time! Create your first 360 video
Sunday, April 30 (10am-6pm)
10:00am: Breakfast, Offload Footage
10:30am: Post-Production, Editing, Intro to Stitching Lecture

11:15am: 360 Video Editing

12:00PM: Lunch

1:00pm - 4:30pm: Continue editing your 360 video

4:30pm-6:00pm : Share your videos with other student groups, peer review, feedback
Meet Your Instructor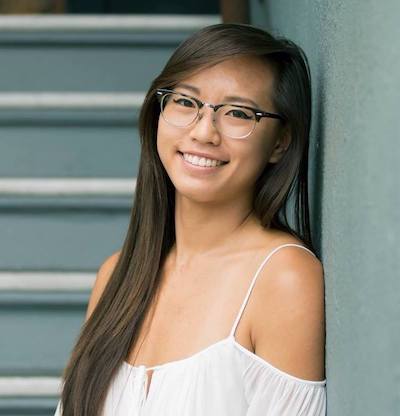 Jenn Duong, Director of Virtual Reality, 1215creative
Jenn Duong is the director of virtual reality at 1215creative, a creative agency and production company based in Los Angeles. She oversees all things VR, ranging from creative/ideation and production to post-production and distribution strategies. In 2016, she cofounded SH//FT, an organization that supports equality, diversity, and inclusion in future technologies. She was recently named #22 in Onalytica's 100 Top Individual VR Influencers of 2016. In addition to working at 1215creative, Duong is a mentor at the Upload Collective and Runway Accelerator. Outside of VR, she is always ready to talk about Game of Thrones, House of Cards, and Taylor Swift.