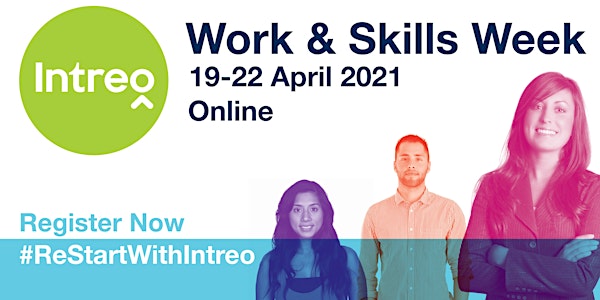 Intreo Work & Skills Week - Work Supports for Jobseekers
'Work Supports for Jobseekers' online event - assisting Jobseekers in preparing for work & showcasing current job opportunities.
About this event
'Work Supports for Jobseekers' day is part of a series of events delivered as part of Intreo Work & Skills Week which will showcase the range of Supports and Services available designed to help businesses to open, to help those that are already open to stay open, to get people back to work and to support upskilling or reskilling for the future.
The Intreo Work & Skills Week has a separate focus each day:
April 19th: Support your Business – for employers
April 20th: Build Your Skills – education options for Jobseekers looking to upskill or reskill
April 21st: Work Supports for Jobseekers
April 22nd: EURES Horticulture recruitment event
The 'Work Supports for Jobseekers' online event will assist jobseekers in preparing for work and showcase current job opportunities countrywide. The event is being delivered by Intreo.
This event is aimed at jobseekers looking to find work or perhaps considering a career change. You will hear from Employers currently recruiting and from Jobseekers about their experiences with Intreo services. You will have an opportunity to learn about return to work supports, self-employment supports, supported employment and Intreo supports for persons with disabilities that are available to you. There will be live sessions on "how to market yourself", "building your virtual profile" and "preparing your CV". There will be an opportunity to ask questions to some of our speakers during facilitated Q&A sessions.
This online event is free. Early registration is highly recommended as places will be limited for these events.
Once registered, you will receive an email with a live link to the online event before Wednesday 21st April 2021.
To view the agenda, please click here: Jobseekers Supports Day Agenda or see below.