Description
Into the Womb of the Earth
A Samhain Journey
with Lara Catone
---
Saturday, November 18 - 7pm-10pm
$33 in advance, $40 day of
. . . . . . . . . . . . .
Pre-registration required. Point Richmond, CA
—exact address provided upon registration
Samhain (SOW-in) is the Celtic new year and fire festival that honors the earth's long exhale into the dark half of the year as her energy retreats underground for renewal. Samhain is a celebration of the great release—the death process that feeds life. It is also a time of deep magic and mystery when the veils between worlds are thinnest.
The Samhain portal invites us into explorations around the messages of our dreams, our relationship to power, connection to our ancestors, who we are as sensual and sexual beings, emotional intelligence and guides us into the underworld to meet the core of who we truly are.
Join us on lunar Samhain when the new moon enters Scorpio for an embodied ceremonial journey for women. We will integrate all that has been composted in this season of letting go and feel the seeds that are being dreamed from your own womb and the womb of the earth.
Through intention, expressive arts, movement, deep imagery and interactive exercises we will engage all of our senses and ways of knowing to explore the questions:
Which of your identities or too small stories are asking to be shed right now?
Where can you surrender your strategic mind and open yourself to intuition and co-creation with mystery?
What does your animal body love and how can you source power from this place?
What is the great mythopoetic expression that is being dreamed through you and by you?
This ceremony will culminate in an offering of generative and thriving energy to the collective, the earth and the cosmos.
This three hour journey includes time for socializing, connecting and grounding before we part ways. There will be light snacks and herbal tea provided.
About Your Guide |
Lara Catone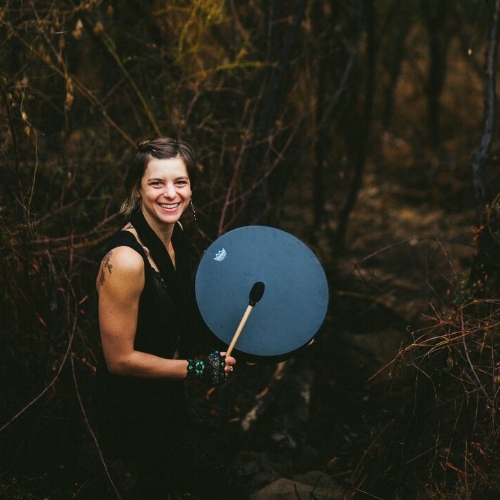 ABOUT YOUR GUIDE
As a trailblazer in the field of women's sexual health and wellness, Lara Inanna Catone, leads a worldwide movement of turned on women. She has spent the past 15 years studying and practicing somatic (body-based) education as a teacher of yoga and authentic movement, birth doula, childbirth educator and somatic sexologist. Lara is an initiated Celtic priestess in the Awakening Avalon lineage and is currently pursuing a doctorate in Organizational Leadership.
Lara is the creatrix of The Artemis School for Women's Sexual Sovereignty—the first and only educational institution weaving sex education with embodiment and nature based mystery traditions. As a mentor, writer, media producer and speaker, Lara is dreaming into being the future as an awakened global community and thriving planet where human potential is evoked through creativity, connection and collaboration.

laracatone.com

, artemisschool.com
. . . . . . . . . . . . . . . . . . . . . . . . . . . . . . . . . . . . . . . . .