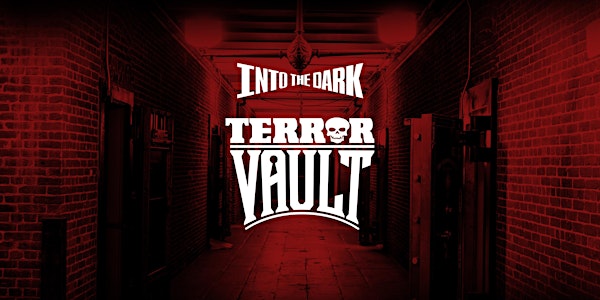 INTO THE DARK: TERROR VAULT (Ages 21+)
When and where
Location
The San Francisco Mint 88 5th Street San Francisco, CA 94103
Description
INTO THE DARK: TERROR VAULT
A Brand New, Fully-Immersive, And Completely Terrifying Haunted Attraction
Discover the untold story and dark history of The San Francisco Mint when you descend into the Terror Vault, the debut Halloween haunt from Into The Dark. Featuring top performers and screamers, Terror Vault combines elements of theater, haunted mazes, escape rooms, and special effects to produce a uniquely terrifying experience like no other.
When you arrive, you'll want to steel your nerves with a drink for purchase in the Ore Crusher Bar before being introduced to Tina, your tour guide for the night. Next, you and your friends will descend down the dark, narrow back staircase of The Mint and come face-to-face with a number of terrifying characters who, rumor has it, were once held at a secret prison in the rat-filled dungeons below.
---
FAQ
Q. Is this a walk through haunted house?
A. Yes and no. This is a fully theatrical, immersive haunted show. It has a complete storyline combining elements of theater, 4D effects, and haunted mazes. It's an all-new show coming to San Francisco so expect the unexpected!
Q. What do you mean by immersive?
A. You will be placed in the action as participants in this twisted tale of horror. More than the 4th wall gets broken here. As in any theatrical show there is NO cell phone use during the show, and NO talking unless encouraged by an actor. If you disrupt or disturb the show, you will be swiftly removed without a refund. However, screaming is acceptable… and inevitable.
Q. Will the actors touch me?
A. That's up to you! Do you want to be a passive participant and watch the action happen around you -- or do you want the adrenaline rush of being part of the action? At the start of the show you will be asked to choose to OPT IN or OPT OUT for interactivity. Those who dare to OPT IN for interactivity should be prepared to be shocked, thrilled, and amazed. If you are someone who likes to "choose your own adventure" we recommend you OPT IN.
Q. How long is the experience? How many people in a group?
A. The experience takes up to 45 minutes from start to finish. You will be put in groups of no more than 12 people. Each group starts the experience at intervals of approximately 6 minutes. If you don't want to be placed with strangers, we suggest getting 12 people together for a complete group.
Q. When should I arrive?
A. You must arrive at the check-in time on your ticket; however, the check-in time is not when your tour starts. This will allow you time to relax and get a drink at the bar before starting the experience. If you arrive late for your check-in time, you might not be able to see the show.
Q. Are there any warnings or rules I need to be aware of?
A. There are fog machines, strobe lights, and special effects in use. We use live actors, moving and non-moving props. Props, actors, and effects might confuse and disorient you. We have security cameras everywhere in the show for both your protection and ours. We also ask you to adhere to these rules:
No cell phones during the show. You will be asked to leave if caught using one.

No talking unless you are engaged in conversation with an actor.

No touching the actors unless they encourage or ask you to do so.

No foul language or bad behavior will be tolerated and are grounds for ejection, at our discretion.

No smoking at any time.

If you are asked to leave by our security team, there are no refunds.

If you need to exit before you finish the tour, you will not get a refund or another ticket to return.
Q. What if I miss my ticket time slot or miss the show?
A. If you are late for the time listed on your ticket we will try to accommodate you as best as we can. The tickets are timed for a reason. We won't guarantee entrance beyond the time listed on the ticket. There are no refunds and no exchanges.
Q. What should I wear?
A. Wear comfortable clothes that you can walk or climb stairs in. Please no high heels, masks, backpacks or personal items that have value to you. Leave all personal items (phones, wallets. etc.) in the coat check. We are not responsible for clothing or personal items that could get lost or damaged.
Q. What is the age range for this show?
A. The show is 21 and over and ID is required to gain entrance.
Q. How is their food or drink at the venue?
A. There will be a full bar with drinks for purchase open every night of the show. No food will be served but there are plenty of places close by where you can get something to eat before or after the show.
Q. Is there parking?
A. There is no parking at the venue. However, there are several public parking lots in and around Fifth Street and Mission Street.
Q. What if I have questions not answered here?
A. You can go to info@intothedarksf.com