Description
Thursday, March 22
Cinema Connect presents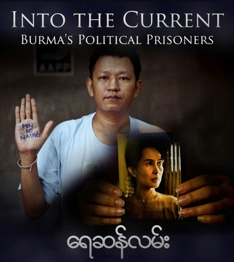 Into The Current
Burma's Political Prisoners
A Feature Documentary that sheds light on Burma's unsung heroes – its political prisoners.
The NeXus
1414 Harbour Way South
Richmond, CA 94804
Evening Schedule
7:00 Doors open (socializing and tea)
7:30 Film and post-film discussion led by Bo Kyi, a former pollitical prisoner and co-founder of the internationally respected organziation Assistance Association for Political Prisioners — Burma (AAPP-B) and Jeanne Hallacy, producer/director.
Tickets
Advance $12
Door $16
Free tea and parking
Film Synopsis
Into the Current: Burma's Political Prisoners directed by Jeanne Hallacy, is a moving film that sheds light on Burma's unsung heroes – its political prisoners – and the price they've paid for speaking truth to power under a military regime. The film is a co-production with the Democratic Voice of Burma and features Bo Kyi's work to free all political prisoners in Burma while striving to deepen the understanding of their role as political leaders.
After the film, Bo Kyi will address the essential role political prisoners have to play in Burma's burgeoning democracy movement and in national unity, as well as the sincerity of the recent rapid-fire changes that have taken place in Burma, including a substantial release of high-profile political prisoners on January 13, 2012. He will elaborate on what is needed to solidify these changes and genuinely move Burma towards a sustainable democracy.
Organizer of Into the Current @ The NeXus
TRIBALIZE: Regenerative Community Summit is the thought leadership summit for those who are designing, developing and collaborating on the next generation of new culture living projects.
 More specifically, TRIBALIZE will:
- Convene the regenerative community sector participants together
- Build the relational trust field of those participants
- lluminate sector challenges and trends
- Showcase best practices, business models and case studies
- Incubate projects and match individuals with aligned projects
- Amplify sector trends to the media
- Consider necessary political actions to impact industry growth